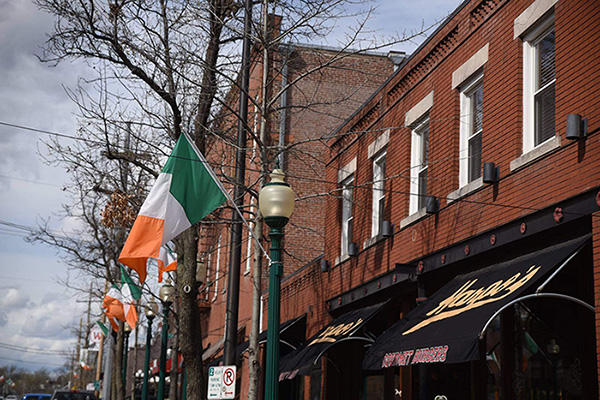 The Ultimate Guide to Westport KC
LeasingKC has always been and will always be a true KC company. We know every nook and cranny of the town and our team is dedicated to helping you find the perfect home, because we simply love living here.

With St. Patrick's Day around the corner, we couldn't think of a better neighborhood to feature than Westport Kansas City.
The Westport neighborhood is known for great nightlife, locally owned businesses, and ultra-hip apartments.
Westport is a beloved Kansas City neighborhood located south of downtown. The housing and apartments of Westport have been long sought after by young adults to have easy access to their favorite businesses, bars, restaurants, and more.
Midtown-Westport is an eclectic area, known for the Westport entertainment area, with festive brewpubs, DJ bars and retro-chic diners serving American comfort food. During the day, the scene centers on trendy fashion boutiques.
Insider tip: you may hear this area referred to as either Westport or "Midtown." Typically, when someone says "Westport," they're probably talking about a more specific area within Midtown Kansas City.
While Westport itself is a relatively small area south of downtown, it's dense with businesses, restaurants, bars, and more, all contained within a cozy-yet-hip, neighborhood feel (excuse us while we gush!). It also has easy access to other amazing KC neighborhoods like Hyde Park, the Crossroads, and the Country Club Plaza. Many of us Kansas Citians enjoy visiting the area during the day to meet up with friends, grab a bite, and shop the many local business in the area, and at night to experience the heart of KC's nightlife.
---
A brief history: the more you know
Westport was actually founded before Missouri was even deemed a state! It has a long history of trade between Native Americans and "mountain men," and sold supplies to wagon trains going west. The center of all of this hustle and bustle was the northeast corner of Westport Road and Pennsylvania Avenue. This cross street has remained a key hub of the Westport neighborhood.
Westport was annexed into the greater Kansas City area in 1897.
---
St. Patrick's Day
Westport is the absolute best place to celebrate St. Patrick's Day in Kansas City. With March just around the corner, LeasingKC wants to make sure you have an inside scoop on all things KC, so you can make the most out of your celebration!
Luckily for us, St. Patrick's Day in 2019 falls on a Sunday. This means a full day of eating, drinking, cheering, dress up, and spending time with friends and family. #CantWait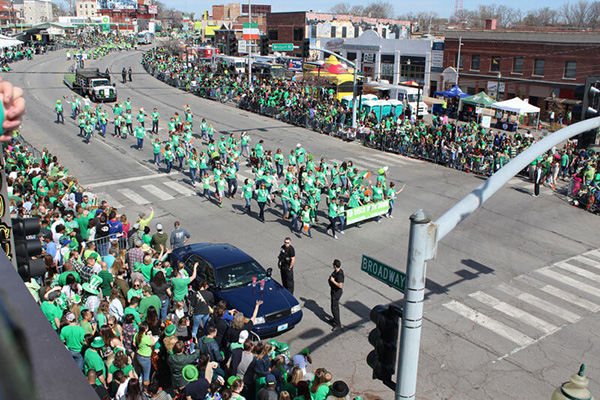 Westport St. Patrick's Day Parade
The parade is the main event of St. Patrick's Day. This year's theme is Shamrocks and Shenanigans, so don't miss out on what's sure to be a blast!
Every year, the parade route starts at the intersection of Linwood & Broadway Boulevards and travels south, down Broadway Boulevard until it reaches 43rd street. That's close to 20 blocks of awesome, creative floats, random giveaways and treats, music, dancing, and more!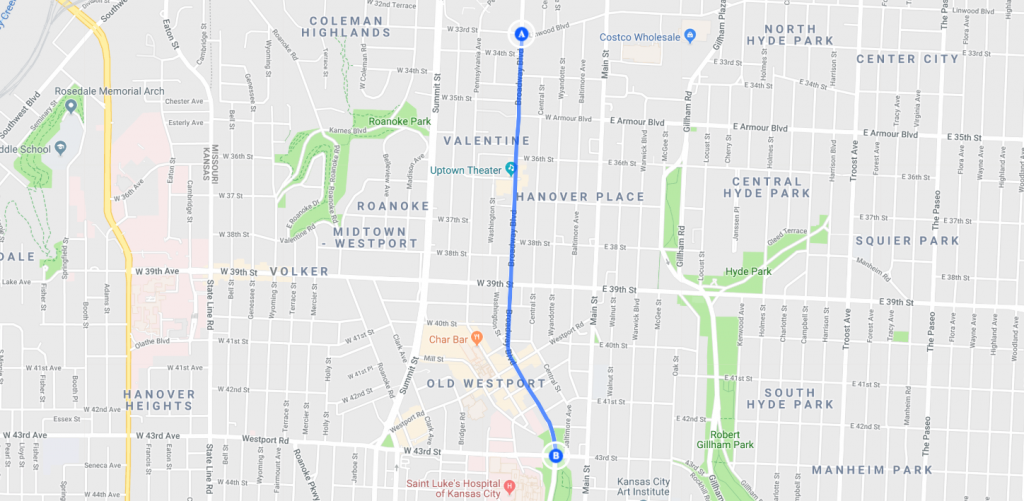 Families travel from all over town to come witness the celebration, so be sure to arrive early to snag a better spot—especially if you're bringing kids with you!
Places to park for St. Patrick's Day parade in Westport KC
There are several public parking garages, as well as street parking. But beware of street closures and changes to typical traffic flow, as the narrow streets of Westport Road are sure to be packed this year! We suggest, if possible, parking several blocks away in order to ensure you can easily and freely exit the area once you're ready to head home for the evening.
Traffic during the St. Patrick's Day parade in Kansas City
Westport Road (from Broadway Boulevard to Mill Street) and Pennsylvania Avenue (from 40th Street to Archibald Street) will be closed on Sunday, March 17th and outdoor beer gardens & sidewalk cafes will be set up featuring food & drink specials and live entertainment. The parade begins at 11am, but may businesses will be open before the parade to get your celebration started. (Trust us, it's official!)
Best places in Westport to celebrate St. Patrick's Day
Street closures may be a pain, but if you're up to brave the traffic, it'll be well worth it once you're on foot! Many of the bars and restaurants set up extended patios and serving areas for their patrons to enjoy specialty food and drinks.
Some of the most esteemed bars and restaurants in Westport include…
While Kelly's emblem reads "1977," they are actually situated in the oldest building in Kansas City, which was built in 1850! Kelly's is adored for its relaxed atmosphere and affordable drinks, and its built in pizza shop, Joe's Pizza, which also offers sandwiches, salads, and snacks.
If you're looking for a great view of the parade but don't want to deal with the crowd, HopCat has an amazing rooftop with a perfect view! Be sure to keep an eye out on their website to purchase tickets.
Beer Kitchen is renowned in the Westport neighborhood for providing one of the largest selections of beers in town. However, around events like St. Patrick's Day and Oktoberfest, they also feature specialty beers and and snacks, making the day feel even more authentic.
Businesses with outdoor beer gardens & sidewalk cafes last year included:
Beer Kitchen

Buzzard Beach

Dempsey's Burger Pub, Firefly, and Gambal's Social Club

Doughnut Lounge

Ernie Biggs and Qdoba

Foundry

HopCat

Jerusalem Cafe

Kelly's Westport Inn

Port Fonda

Snow and Company

Throwback

Westport Saloon
This popular race spans a 4-mile course around the Westport neighborhood and features lively onlookers (even Irish Dancers make an appearance!) and dressed up participants. They sound off the race with bagpipes, and many end the race at Gambals for Irish Breakfast. The run happens every year on the day before St. Patrick's Day. In 2019, that's Saturday, March 16th.
Stay tuned here for more fun ideas for St. Patty's Day 2019!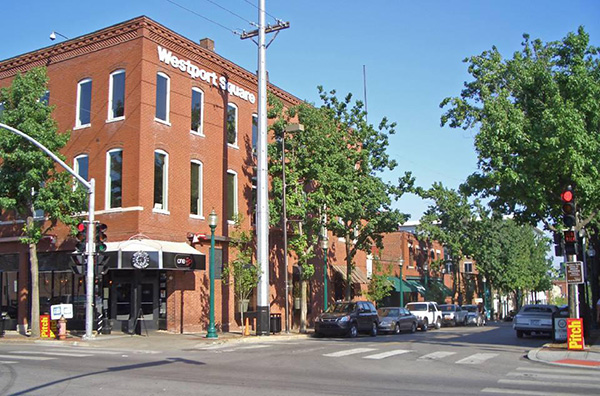 Things to Do in Westport KC
Festivals
St. Patrick's Day isn't the thing that should bring you to the Westport neighborhood! A variety of businesses host events throughout the year, such as trivia, cinema (check out a local favorite, Tivoli Cinemas!) and more.
Every September, an outdoor art show and festival called Art Westport hits the town. It's a great way to meet local artists and check out unique art, jewelry, and other crafts. We put this on our calendar as a great date idea (hint hint!), but can be fun for the family, too. 2019 will be Art Westport's 40 year anniversary, so we'll be keeping an eye out for what we're sure will be even more fun features and activities.
Shopping
Westport features some of the most unique, eclectic shops in town. Second hand stores like Clothz Minded and Arizona Trading Company keeps us locals hop to the latest, recycled trends. The Bunker, located on the corner of Broadway Boulevard and Westport Road, carries some of the most popular KC gear you'll see all around town. Mills Records is a fan favorite for a constantly circulating and refreshing music options; they also host live music events all the time!
Restaurants
Beside the bars and restaurants listed above, there are so many additional options for dining in Westport, you may find it hard to choose one! Here are a few suggestions for your first or second time in the area to make sure you really get a "taste" of the Westport neighborhood.

Try…
For…
The Corner Restaurant
Breakfast
Filling Station
Coffee
Char Bar
Brunch
Westport Cafe & Bar
Dinner
Mud Pie Vegan Bakery & Coffee
Dessert
Donutology
Snacks
Harpo's
Watching a game
Oh, and don't forget to check out our Ultimate Guide to Westport Happy Hours for even more delicious information!
---
Living in Westport
Many choose to live in Westport, and Midtown in general, to feel immersed in the quintessential Kansas City experience. Here are a few of the perks us locals see to living in this area.
Proximity to literally everything
Westport is in close proximity to a ton of other neighborhoods in the area, such as Hyde Park, Westside South, Union Hill, and more. It's also only a short ride to the Crossroads and the downtown area! 
The unique vibe
The Westport vibe is unique to Kansas City. While its residents enjoy many of the same perks as their downtown neighbors, they also enjoy a small-town, more intimate atmosphere. This is perfect for young adults and young families looking for access to amazing activities, without the noise of bustling city streets.
A fashionable, historic style
The buildings of Westport are some of the oldest in Kansas City. Many of apartments and homes have been maintained and updated over the years, which means the residents of Westport enjoy a historic neighborhood charm while having access to updated features and amenities.
---
Learn more.
If you're looking for the coolest apartments in Kansas City, we've got you covered. LeasingKC is a rental listing site run by local experts to help you find Kansas City apartments, rental homes, condos, and lofts.

---
Stay up to date.
Whether you're new in town or a native Kansas Citian, there's something new to discover about KC every day. Join over 34,000 subscribers of LeasingKC Newsletters for more tidbits, city guides, and more.