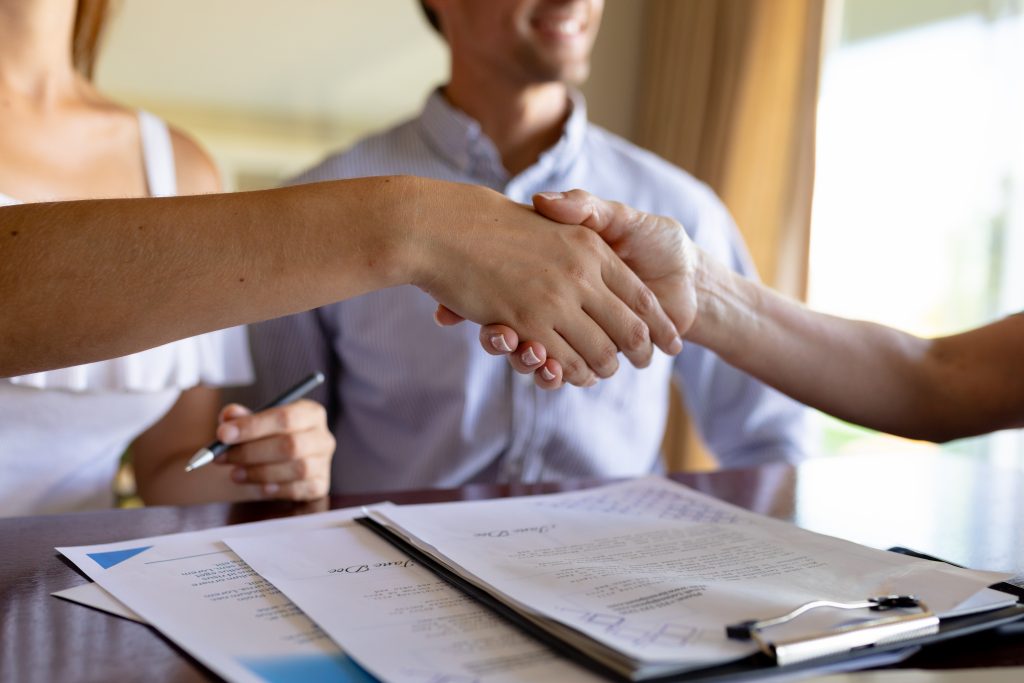 Gaining leads is one thing, but effectively converting those leads into a lease is a whole different ball game. The key to running a successful apartment complex isn't just gaining more attraction, it's learning how to use that attraction to fill more vacancies. Obviously, that's a lot easier said than done, and for many property managers it can be a real head scratcher. 
But fear not. Our apartment marketing experts at LeasingKC have direct insight into the minds of renters. Since we run a huge apartment listing website, we engage with renters on a daily basis. That means when it comes to the ins and outs of how to get more renters, we've got the inside deets no one else can offer. 
Read on to learn the best ways to successfully increase your lead to lease conversion rate without breaking a sweat 🙌
Increasing rental conversions is all about customer service
People don't just choose an apartment based on amenities and how the apartment looks; they also choose based on how well the leasing staff treats them. That's why we recommend the "work backwards" method. 
What this means is that you start with what a prospective resident wants and needs, then put careful thought into how you can supply the solution. In this sense, you can actively start understanding people's concerns and tailor your complex (and how you present it) to address them. This is also a great step to start an audience-driven marketing campaign. 
Social Media Marketing Tips for Property Managers in Kansas City →
You'll also want to understand conversion standards. To be 100% honest here, you won't know how you're doing if you don't know your current conversion rate. The lead to lease process won't be as effective if you don't know where your issues lie, and the only way to do so is by discovering you have one. So before you go any further, make sure you pull some numbers to see where you stand. 
Ideally, you want your lead-to-lease conversion rate to average at around 12% or more. If you have any questions on how to get there, our independent leasing agents at LeasingKC can help. By using the following methods, our team easily reaches that 12% mark (but we're not trying to toot our own horn). 
Tours are your ultimate closing tool
A tour is your chance to show off what makes your property great. But without a quality tour, it may be difficult to hone in on your leads. In this new decade, there are more options than ever to build a wonderful tour. In fact, you may be surprised what technology could do. 
In-person tour
A good ol' in-person tour isn't going out of style any time soon. People still like to come in and see with their own eyes what you've listed online. When possible, we highly recommend that you turn on lights and open windows in model apartments before a prospective resident comes in. This will make the apartment feel more inviting the moment someone steps in the door. 
Whenever you host a tour, make sure you actually know your stuff, even small details you don't think matters. Know how wide a king or queen bed is in relation to your bedrooms, the nearest grocery stores, average utility costs, etc. Basically you need to be ready to answer questions without hesitation. 
As you engage with someone, make sure you're conversational. You don't want to come off as stiff and impersonal. Also, don't rattle off facts about utilities or unnecessary numbers until later in the process. The tour is your time to welcome someone in, not make them feel like they're in a business transaction. 
If you have extra information about the person, add those details into your tour. For example, if you know they have a dog, let them know just how pet friendly your complex is, and the location of nearby parks. Also, don't be creepy here. There's a fine line between personalizing the tour and coming off somewhat stalkery. 
Upload video tours
With people always on their phones and laptops, now more than ever it's important that you meet your future residents where they already are. When people don't have time to stop at your leasing office for a tour, a video tour gives them an up close glimpse at what you have to offer on their own time. Believe us when we say this can make all the difference when you're trying to convert your leads to leases. 
Bonus: they're a lot easier than you think! You can simply have your leasing staff take videos of your apartments and amenities. It's also great to explain each area and what the viewer is seeing. However, we don't recommend using anything like a cellphone for these, because you want the best quality to attract future residents. 
Step into the future with 3D virtual tours
Want to really impress people? We've got three words for you: 3D. Virtual. Tours. 
A 3D virtual tour literally makes someone feel like they are walking inside your complex. Plus people can guide themselves, which allows them to move at their own pace. From our years of experience, we've found that 3D tours not only boost the amount of leads you can get, it makes it much easier to gain new residents. Some may even apply for a lease online without ever visiting the office! 
"But we don't have the capability to build 3D tours."
That's okay! LeasingKC works with apartment complexes to create 3D tours to take their marketing efforts to the next level. Just reach out to one of our marketing specialists and we can help you get started. 
From lead to lease: Learn more tips with LeasingKC 
If you're in the Kansas City area, let LeasingKC be your bridge between you and your future residents. LeasingKC is a rental listing site run by local experts to help people find Kansas City apartments, rental homes, condos, and lofts.
Along with lead to lease tips for property management companies in Kansas City, we also provide a variety of cost-effective marketing plans that allow property managers and landlords to maximize their investments. 
Stay up to date.
Whether you're new in town or a native Kansas Citian, there's something new to discover about KC every day. Join over 34,000 subscribers to LeasingKC Newsletters for more tidbits, city guides, apartment marketing tips, and more.