5 Best Dog Parks in Kansas City & Other Canine-Friendly Activities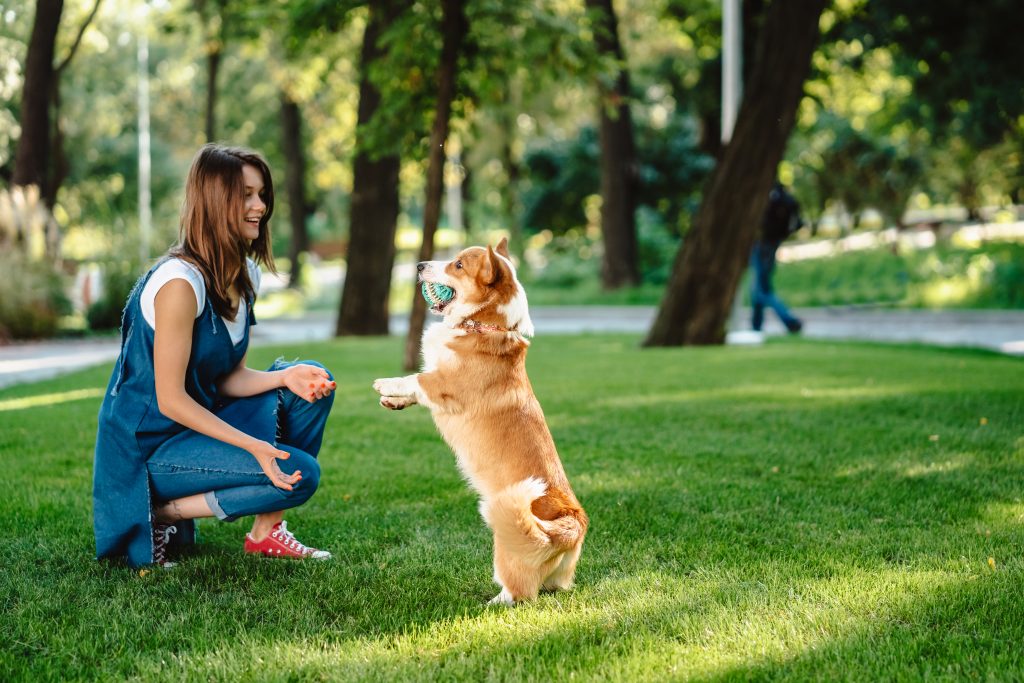 Oh, man's best friend. Sometimes they're perfect angels; other times they need to get out of the house before they ruin yet another couch. And let's be honest—you should spend some time outside, too. Netflix will still be there when you get back 😉
Our team at LeasingKC are always looking out for the best new hotspots, even ones for our four-legged friends (sorry, no cats allowed this time). Based on our time scavenging the area for some pretty awesome dog parks in Kansas City, we've narrowed our list down to our top five… in no particular order, BTW. 
Dog park etiquette 101: Don't be
that
dog owner 
Before you hit up dog parks in Kansas City (or any dog-friendly place), there are a few common courtesies you should follow. Of course, you should always understand the specific rules for each facility you visit; they're not all the same. 
Keep an eye out for your dog
Off leash doesn't mean you're off duty. While off-leash dog parks give your dog a little more freedom to run and play, you should still monitor what's going on. Never get so far away that your dog can't hear you when you're calling its name. 
Make sure your dog is vaccinated
We don't want rabies or any other disease roaming around; we all know how that goes. Before you bring your dog anywhere, make sure you've taken it to the vet to get all of its shots. Most people have already done so, but it never hurts to double check everything is up to date.
Clean up after your dog
A dog park isn't an open canine restroom with a free janitor—you're the janitor. Whenever your dog has to go (if you know what we mean), pick it up. No one likes a pet owner who doesn't clean up their dog mess. Remember: Doggie doo is a doggie don't. Make sure you bring a trash bag; some parks even have their own bag dispensers and trash cans to help you out. 
Don't bring a dog in heat
… unless you want a fun puppy surprise later. If you have an unspayed female in heat, it could wreak havoc with the male dogs. We're talking MMA fight havoc. Okay, slightly kidding about the second part. However, you should really keep her home until she settles. That way you don't have to worry about male dogs pouncing or fighting one another. 
Leave the food at home
Dog parks typically aren't the ideal location for a sunset picnic. Just imagine pulling out your turkey sandwich only to find a cluster of dogs waiting for their bite (or just stealing it). In the same realm, it's often best to leave dog treats in the car or at home. If your dog does something good that usually involves a treat reward, praise them verbally, then grab a treat in the car on your way home. Again, you don't want other dogs getting jealous or becoming aggressive if they see you have goodies. 
1. Bar K Dog Bar
Location: 501 Berkley Parkway
Hours: 9 a.m. to 8 p.m. Sun-Thurs; 9 a.m. to 9 p.m. Fri-Sat
A dog park and bar? Sign us up! Bar K Dog Bar boasts not only a great dog park, but also a restaurant, bar area, and event space. So if you want to plan a major bash for Spot on his next birthday, then this is the place to go 🥳 
Let's talk about the restaurant menu for a sec. No seriously, you're going to want to hear this. To keep you and your furry partner active and fit, they offer a "healthy casual" menu. Notice how we said "you and your furry partner"… yes, they have dishes specifically created for dogs. While you chomp on your Beyond burger and house salad, your dog can dive into chicken risotto and ice cream nuggets. And of course, there's a great selection of wines, beers, and cocktails—just not for the dog. 
Before you go, you either need to buy a guest pass or purchase a membership. 
2. Swope Park Off-Leash Dog Park
Location: 5051 E. Gregory Boulevard
Hours: 5 a.m. to midnight every day
With so much stuff to do in Swope Park, it's no surprise it also has a place perfect for your dog. Opened in 2012, Swope Park Off-Leash Dog Park sits on five acres of land that offers a large dog area and a small dog area. Even though this is an off-leash park, you can't leave your dog unattended, and they must remain under voice control. 
Whenever you're ready to explore the park, make sure you put that leash back on. After, you can go fishing, take a jog, have a picnic, or even lie back and count stars with your favorite pet. 
3. Rock & Brews
Location: 5701 W 135th St
Hours: 11 a.m. to 10 p.m. Sun-Thurs; 11 a.m. to 11 p.m. Fri-Sat
Ready to rock 'n roll all night? Grab your pup and head over to Rock & Brews in Overland Park. While this rock-inspired restaurant doesn't have a dog park, it does have a nice-sized patio and welcomes dogs of all sizes. Since 2010, they have been serving classic American dishes with a fun twist all while jamming out to great music 🎸
And no, this isn't just another "dog-friendly" restaurant. Rather than simply allowing dogs, Rock & Brews caters their one-of-a-kind experience to canines, too. We're talking about a separate dog menu (say goodbye to kibble for an evening), and they'll even bring out a special dog water bowl. 
4. Wayside Waifs Bark Park
Location: 3901 Martha Truman Rd
Hours: 8 a.m. to 5 p.m. Mon-Fri
For a dog park that supports a good cause, then you don't want to miss out on this one. Wayside Waifs animal shelter offers a safe, fenced-in dog park, giving your dog 5-acres of freedom away from the leash. The Bark Park comes with a separate area for smaller dogs, covered pavilions, "Time-Out Kennels" (if your pup gets a little too rowdy), water stations, and more. If you're worried about it being too cold or too hot outside, don't fret! The park's Courtesy Comfort Station gives you a break from the elements and has vending machines for soda. 
Wayside Waifs Bark Park requires a membership and a card to enter, which is great for those worried about security. All of the proceeds support their shelter operations. 
5. Shawnee Mission Park
Location: 7900 Renner Road (west of the 87th and Ridgeview entrance)
Hours*: 5 a.m. to 11 p.m. every day March 1-Oct 31; 6 a.m. to 8 p.m. every day Nov 1-Feb 28
There's literally so much to do at Shawnee Mission Park that you could find a different activity for each day of the week—an outdoor lover's dream! From their disc golf course to their marina, there's truly something for everyone, including your dog. Their 44-acre (yes, you read that correctly) off-leash dog park comes with a paved trail leading to the lake and beach area (you read that one correctly, too) and beautiful walking trails. With so much space, your dog will never get bored…  albeit maybe a little tired. 
If you have a boat, take your family and pooch onto the gorgeous water to enjoy fishing, sailing, paddle boarding, and other fun activities. 
* Every Tuesday and Thursday the dog park is closed from 5 a.m. to 9 a.m. for maintenance.
Let us help you make Kansas City your home. 
There's nothing like settling down in a place all your own, especially one with its own doggy area. With so many dog parks in Kansas City and other canine-friendly activities, an apartment in the area is sure to keep you at the heart of the action. There are a variety of neighborhoods and complexes that could fit anyone's needs, and we have them all ready for you in one, easy-to-find place.
If you're looking for the best housing near Kansas City with dog parks, we've got you covered. LeasingKC is a rental listing site curated by local experts to help you find Kansas City apartments, rental homes, condos, and lofts.
Stay up to date.
Whether you're new in town or a native Kansas Citian, there's something new to discover about KC every day. Join over 34,000 subscribers to LeasingKC Newsletters for more tidbits, city guides, and more.