All You Need to Know About Living in Leawood, Kansas
Family-friendly? Check. A shopaholic's dream? Check. Incredible school district? Check again. Needless to say, living in Leawood, Kansas comes with a lot of perks that you absolutely can't ignore. As one of the safest places to live in the Kansas City metro, Leawood offers high-end suburban life without being far from the hustle and bustle of KC city life.
Here at LeasingKC, we stay in the know on the best city in the Midwest (yes, we're a little biased). And since we're experts in KC living, we've got you covered on all you need to know about living in the beautiful town of Leawood. 
First thing's first… vibe check ✔️
Leawood isn't going to bring you the same artsy flair as areas like Westport or downtown KC. However, the city has its own incomparable beauty that attracts people seeking more upscale living. In fact, Leawood ranked number 75 out of the top 200 richest cities in the United States 😱
But just because the area is a little wealthier, doesn't mean it's snobbier. Since Leawood is still part of the greater Kansas City area, they share the same community-driven and friendly mindset that we all know and love. 
While driving through the area, you'll find gorgeous neighborhoods with pristine homes, manicured parks and playgrounds for the kids, great dining, some of the best gyms in the area, and shopping centers that will literally make you want to shop til' you drop.
You won't have to worry about loud noises or a crazy party scene since a lot of people there are family-oriented. Of course, that doesn't mean you'd be far away from the fun; a trip to the Power & Light District is less than 10 miles away! 
If you're looking for a more stable environment to enjoy the finer things in life, then Leawood may just be a place you'd want to call home. Plus, with the array of luxury apartments, you're sure to find something that could fit your needs. 
Things to do in Leawood, Kansas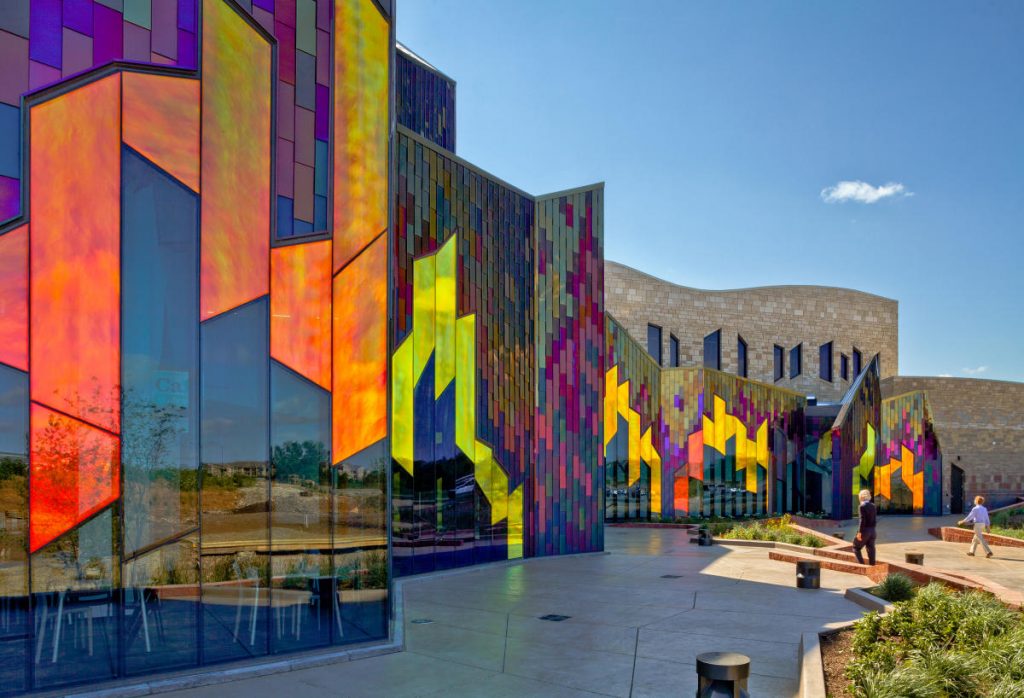 Leawood isn't simply a place with beautiful homes and apartments; there are so many great activities for adults and kids alike. Listing out everything you can do in the suburb would take forever (trust us, you'll never get bored), but here are a few activities you can take advantage of when you live there. 
Town Center Plaza
We can never talk about Leawood without bringing up Town Center Plaza. This outdoor, open-air mall boasts over 90 retail stores and restaurants, making it the perfect staycation shopping trip, date night with your significant other, or simply a place to stay on top of the latest fashion trends. 
Park Place
Park Place is across the street from Town Center, and offers a smaller, more unique feel. Filled with local eats and one-of-a kind boutiques, there's always something fun to do in the area. You can relax at one of the spas or head to the square for live music. As a special treat, the green square transforms into a skating rink during the winter, so the fun continues all year long. 
Pinot's Palette
Whether you're an artist or just like to play around with paint, Pinot's Palette is a great place to bring out your creativity and drink some great wine. If you want to bring the family, you definitely can! While there are paint and sip classes for the older crowd, there are also kid-friendly family events for kids aged 11-17. 
Blade & Timber Axe Throwing
Want to try something out of the box? Blade & Timber Axe Throwing may sound a little dangerous, but it's perfectly safe (and fun!). To start, simply go online and reserve a lane and you're ready to go. Before you start, one of the axe safety certified trainers will teach you the proper way to throw an axe, and they'll also be there to guide you through your entire experience. However, if you want to bring kids around, make sure they are 10 and older.
Leawood City Park
Have some fun outdoors at the massive, 66-acre Leawood City Park. For sports lovers, the park has 11 soccer fields, six tennis courts, three basketball goals, two baseball fields, two sand volleyball courts, and a jogging trail. Anyone can find something fun to do, even your dog (yep, there's a dog park too!). During the summer, you can visit the aquatic center or enjoy some of their public events.
Bonus: Leawood's award-winning public school district 
The Blue Valley School District is a top factor that pulls people into Leawood. This school district is not only one of the best in the Kansas City area, it's also one of the top school districts in the country. What's more? The education is so great that they boast extremely high test scores and a 97% graduation rate! So instead of spending money on private school, you get the best education for your kids simply by living in Leawood. 
First put together in 1965, the district now offers a variety of special programs to ensure your child stays successful from kindergarten all the way until graduation. These programs include:
Advanced placement courses for college credit

K-12 enrichment programs

Intervention programs for reading and math

Mentoring programs

And more!
Note: Some Leawood rentals reside in the Shawnee Mission School District (on the northern side), so make sure you do your research before you sign a lease.
Find the perfect Leawood rental in a click of a button. 
If you're searching for a rental in Leawood, Kansas, we've got you covered. LeasingKC is a rental listing site run by local experts to help you find Kansas City apartments, rental homes, condos, and lofts.
Stay up to date.
Whether you're new in town or a native Kansas Citian, there's something new to discover about KC every day. Join over 34,000 subscribers to LeasingKC Newsletters for more tidbits, city guides, and more.