Your Guide to Holiday Shopping at the Country Club Plaza (Updated for 2023)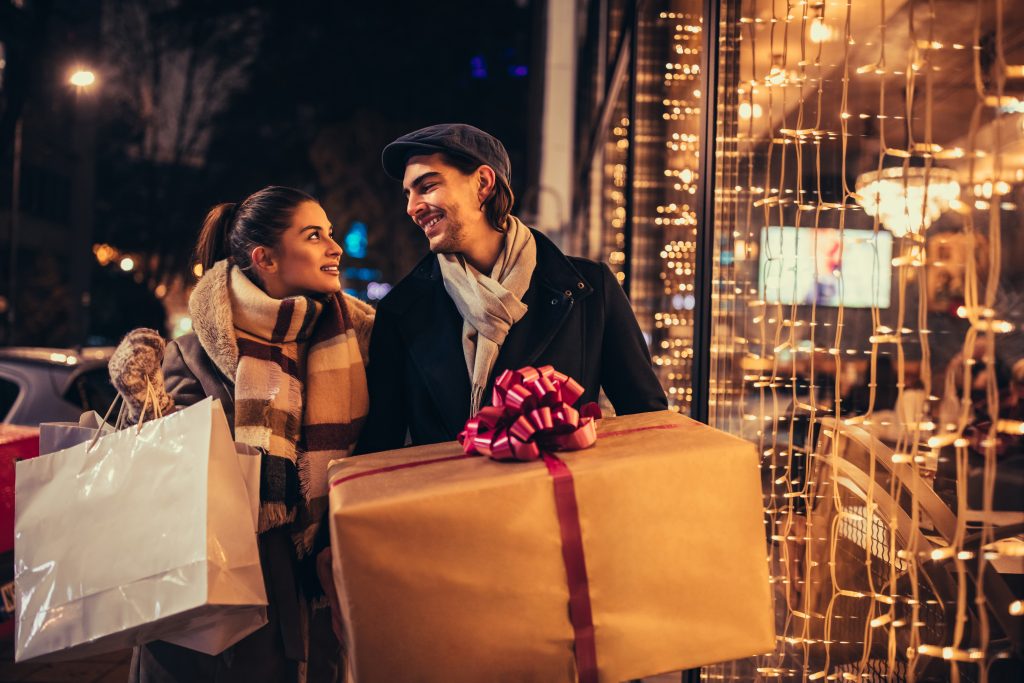 The holiday season will be here faster than you think, and you know what's super stressful? Waiting until the last minute to find the perfect gift. This year, make your holiday shopping a complete experience you can enjoy instead of suffering through endless crowds and anxiety on December 23rd (but we've all been there at least once). 
LeasingKC has been the go-to expert for all things Kansas City. While there are tons of places to shop for the holidays, there's nothing quite like getting in the spirit at the Country Club Plaza. Keep reading for our ultimate guide on holiday shopping in Kansas City at the Plaza. 
What makes the Plaza so special during the holiday season?
There's a reason Kansas City natives of all ages flock to the Plaza for their shopping, and it doesn't just have to do with the amazing stores and restaurants. The magic begins once the sun sets on Thanksgiving evening and the Christmas lights come alive. 
This annual tradition is a cornerstone of Kansas City's holiday activities and has been around since 1925 Charles Pitrat saw the beauty in the Plaza's Spanish-styled architecture (fun fact: the Plaza design is based on the art of Seville, Spain) and decided to hang lights for the first time on the Mill Creek Building. While the lighting wasn't nearly as extravagant as it is today, it was the first step to a true KC treasure.
Each year after, Pitrat added a little more spark to the holiday lighting. Now in 2022, when they flip the switch, each building illuminates red, green, and yellow lights that transform the shopping center into a glowing winter wonderland. 
Now, you could walk through the Plaza and enjoy the dazzling lights, but if you want an experience straight out of a Hallmark holiday movie, then you can take in the beauty on a horse-drawn carriage. This is perfect for a special date night, hanging out with friends, or simply taking a break from your holiday shopping. Either way, you'll giddy up and ride through a wonderland of snow (or pavement… who knows what will happen with KC weather?)
Holiday shopping experience at the Country Club Plaza
One of the best parts about the Country Club Plaza is that it's an open-air shopping center, so you don't have to worry about walking around a mall and bumping into tons of people. You can spread out, enjoy the views, and maybe even take a few pictures along the way! 
With the vast array of retail options, you shouldn't have a hard time finding something that's perfect for everyone on your list. Whether you're shopping for kids, teens, adults—literally any age—the Plaza will probably have the right store for your needs. 
Here's just a glimpse of some of the stores you can find. 
If you're shopping for clothes, try out: 
Banana Republic

Express

Free People

Francesca's

H&M

lululemon

Urban Outfitters
If you're shopping for beauty items, try out:
Bath & Body Works

Beauty Brands

Sephora
If you're shopping for handbags, try out:
If you're shopping for jewelry, try out: 
Tiffany & Co.

Tivol

Pandora
Vinca Jewelry
Time to refuel: Best places to eat at the Plaza
If you're spending all day shopping, you're bound to get a little hungry. Good thing the Country Club Plaza is full of amazing restaurants with mouth-watering cuisines to die for. In fact, there's such a huge variety of foods, you may want to take multiple trips just to try as many out as you can! 
We could spend all day listing out our favorite places to eat (hint: we love them all!), but since we love our city, we'll tell you some of the best local restaurants exclusive to Kansas City. 
Gram & Dun
Gram & Dun offers a culinary experience you don't want to miss. With special attention to pairing their dishes with the best drinks, you can learn more about flavors that match together to become a mini food connoisseur yourself. As seasons change, they subtly change the flavors of their dishes to match how your tastes naturally change throughout the year (never thought of that, huh?). This modern environment dedicated to sophistication and craftsmanship is the perfect way to end your holiday shopping. 
Our top dish pick: For dinner, we recommend trying out the ravioli in brown butter sage sauce with butternut squash, pumpkin seed gremolata, fresh goat cheese, and crispy proscuitto.
Rye
Rye KC is a local treasure founded by two award-winning chefs (and there's a location in Leawood!). If you want some of the best Midwestern delights with a high-end chef's touch, then you'll definitely want to stop by. Their dishes pay homage to what makes the Midwest pretty great, including: 
Berkshire pork chops

Aged steaks

Chicken & dumplings

Pie

And more! 
Our top dish pick: If you're a fan of seafood, order their pan-roasted rainbow trout. The fish comes with puttanesca sauce, roasted potatoes & onions, oregano, and lemon for a wonderful flavor blend to ignite your taste buds. 
O'Dowd's Gastrobar
O'Dowd's Gastrobar offers a more casual dining experience without compromising taste. Their classic dishes are chef-driven, ensuring each item on the menu is absolutely delicious. Expect hand-crafted meals made with locally sourced ingredients; you can even try out some of the local beers and distilled spirits they offer.
Our top dish pick: Comfort food always satisfies cravings on a cold day, which is why their Shepherd's pie is a winner. Made with ground beef simmered with veggies, a mushroom demi-glace, and mashed potatoes, this dish is a great go-to for those homestyle cravings. 
Let us help you make Kansas City your home. 
Holiday shopping in Kansas City is great, but when it's all said and done, we all look forward to returning home to relax. There are a variety of neighborhoods and complexes that could fit anyone's needs, and we have them all ready for you in one, easy-to-find place.
Plus, if you're looking for the most affordable apartments on the Plaza (yes, they exist!), we've got you covered. LeasingKC is a rental listing site run by local experts to help you find Kansas City apartments, rental homes, condos, and lofts.
Stay up to date.
Whether you're new in town or a native Kansas Citian, there's something new to discover about KC every day. Join over 34,000 subscribers to LeasingKC Newsletters for more tidbits, city guides, and more.