Your Guide To KC Oktoberfest at Crown Center
If you have dreams of buying a ticket to Bavaria for a traditional Oktoberfest experience, but you lack the funds or available time away from work and family responsibilities, you can breathe a sigh of relief. This October 4th and 5th, KC Bier Co. is bringing back its annual Oktoberfest and transforming Crown Center into the Munich of the Midwest!
Grab your best dirndl, pour a drink into your favorite bier stein, and get ready for two days of bratwurst, polka, and fresh bier with nearly 10,000 of your new friends after you check out LeasingKC's guide to KC Oktoberfest at Crown Center below.
Since when does the official KC Oktoberfest take place at Crown Center?
Kansas City's largest locally-owned brewery, KC Bier Co. started its Oktoberfest celebration at its Biergarten in Waldo. Though this tradition has been around since 2014, the two-day event was officially relocated to one of Kansas City's most iconic districts, Crown Center, last year to accommodate the rapidly swelling size of the event.
Other fun fall activities at Crown Center
What activities can be expected at KC Oktoberfest at Crown Center?
A great benefit of the new venue for KC Oktoberfest is that most of it happens under cover of giant tents. This means that no matter the sometimes-unpredictable fall weather (sorry KC, it's true…), Oktoberfest goers will be able to enjoy themselves.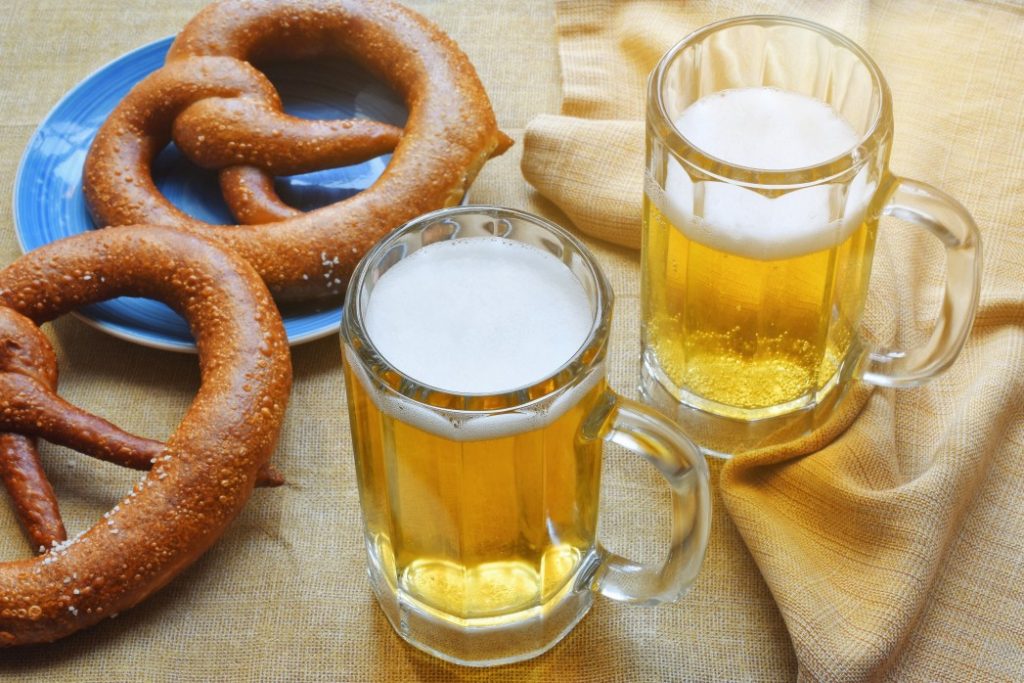 There's going to be no shortage of entertainment to go along with the flowing bier at this festival. Here's a few highlights:
Live Entertainment
The main stage (and polka stage!) at KC Oktoberfest at Crown Center will be packed with authentic Festmusik, performed by local and national German-style acts. 
Starting at 5pm on October 4, Das Ist Lustig, a traditional German folk band, will take the stage to get the party started with traditional and party polka (with a mid-set ceremonial keg tapping).
Other live acts you can catch at KC Oktoberfest include German rockers Die Schlauberger, The Polka Brothers, Festhaus-Musikanten, Happy Wanderers, and more.
Games & Competitions
Traditional Bavarian activities will be readily available at KC Oktoberfest. A few of our favorites include a stein-hoisting competition known as Masskrugstemmen and a game that combines drinking bier with manual labor called Hammerschlagen. 
If you've never played Hammerschlagen, it goes something like this: you assign each player a nail on a cross-section of a tree trunk. Players pass a hammer from player to player, with players taking turns swinging at their nail until they sink it into the wood. The first person to successfully sink their nail wins! Depending on the age of those playing, steins of bier or shots of whisky may be given to the loser(s), so start practicing your swing!
Family Activities
KC Oktoberfest at Crown Center is an all-age, family friendly event. Bring the kids along to enjoy Cornhole, arts and crafts, classic carnival games, and more.
Plus, there's a Bavarian-style "Best Dressed" competition for the entire family to get involved in. 
What kind of food and drinks are there?
Come to KC Oktoberfest ready to feast! KC Bier Co. will offer a selection of food from its Bierhalle, including German sausages & bratwurst with sauerkraut, Bavarian pretzels and cheese, Bier Cheese Soup, kettle chips, and more. Not to mention the flowing fresh German-style bier, including KC Bier Co.'s award-winning Festbier, Helles Lager, Hefeweizen, Pils, and Dunkel.
If that's not enough, Grünauer, everyone's favorite local Austrian restaurant, will offer Austrian and Central European cuisine, alongside Scimeca's Sausages, Poppin' Joe's Kettle Corn, K&C Tropical Whip, and other traditional carnival foods. Plus, our meat-free folks can rejoice, as Veg Life KC will be on-site serving up vegan bratwurst. 
Directions and Parking at KC Oktoberfest
Crown Center is just south of Downtown KC at 2450 Grand Boulevard. Parking at Crown Center is free after 5pm on Fridays and weekends, but be prepared for limited or scarce parking because of sheer volume of Oktoberfest attendees. 
Those who want to avoid car traffic can find free parking further away and hop on the Kansas City Streetcar at one of its 16 stops between River Market and Crown Center. No matter where you hop on, be sure to get off at the Pershing & Main Union Station stop and walk one block east to the festival! 
The RideKC Max Bus also stops at Crown Center and is just $1.50 for a one-way ride. 
Those who live in the area will have the easiest time getting to and from KC Oktoberfest. Invite your friends over for some early beers and fun, and then walk to the festival without the stress or hassle of finding parking and dealing with traffic! 
The Ultimate Guide to Crown Center Kansas City →
Where can I get tickets to KC Oktoberfest?
Tickets to KC Oktoberfest at Crown Center can be purchased on the event website. General Admission is just $10, with options to upgrade to VIP tickets for $55 and reserved tables for larger groups. 
Additionally, tickets can be purchased at the festival entrance on either day of Oktoberfest.
---
Learn more.
If you're looking for the best apartments in Crown Center Kansas City, we've got you covered. LeasingKC is a rental listing site run by local experts to help you find Kansas City apartments, rental homes, condos, and lofts.
Stay up to date.
Whether you're new in town or a native Kansas Citian, there's something new to discover about KC every day. Join over 34,000 subscribers to LeasingKC Newsletters for more tidbits, city guides, and more.