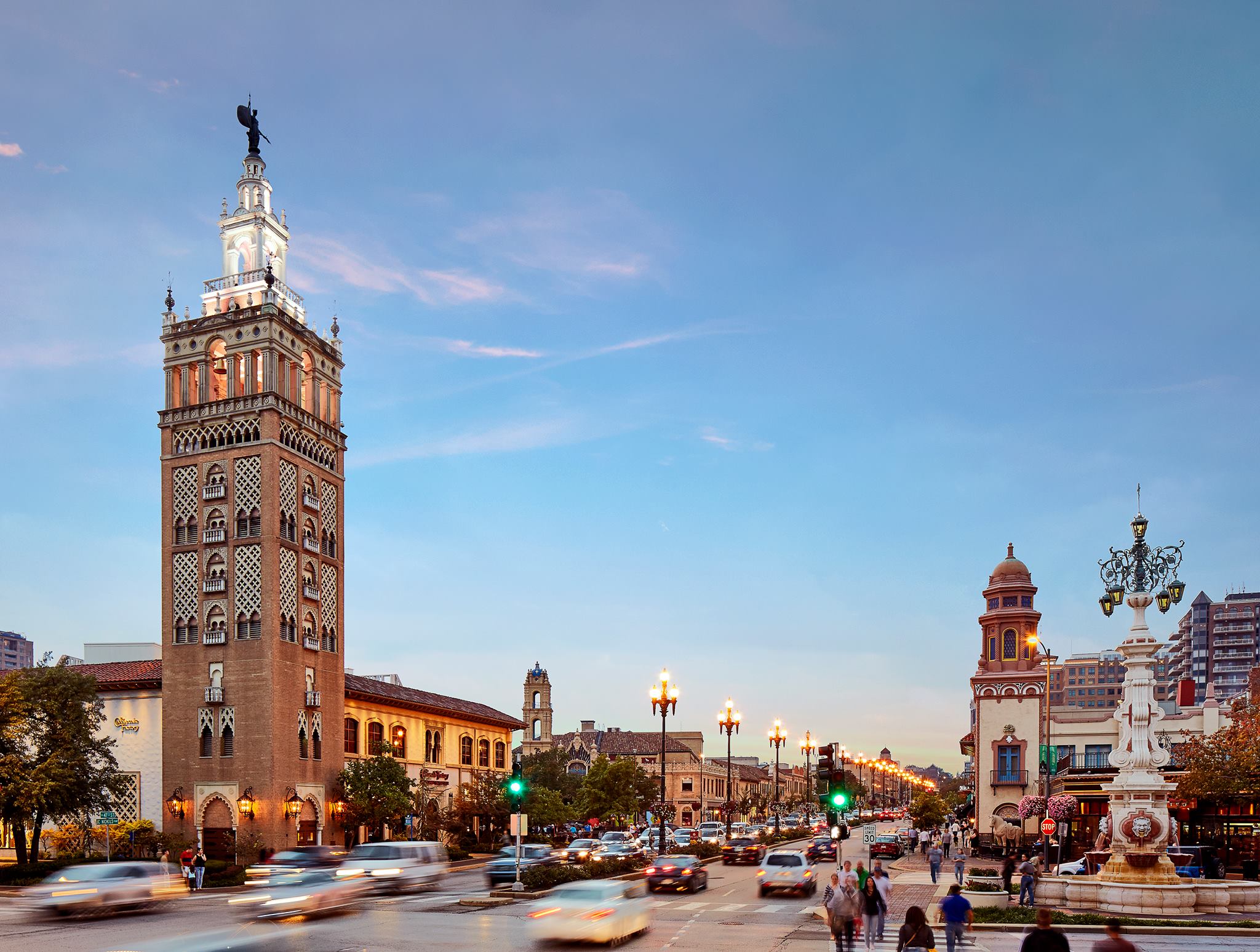 (Image Source)
The Country Club Plaza: An Exclusive Look
The Country Club Plaza originally opened as an exclusive shopping and dining district in 1923. Although there has been continuous change over the years, The Plaza has continued to thrive as one of Kansas City's most desirable locations to work, live, and play. There is an abundance of activities to be found on the Country Club Plaza, from street performers (including a jazz flute player) to yoga and everything in between. No matter the time of day, you'll always find the streets bustling with activity!
Dining
The Plaza offers some of the best dining in Kansas City with restaurants like The Capital Grille, Gram & Dun, and The Classic Cup Cafe. The Country Club Plaza also offers a variety of chain restaurants not available anywhere else in the city. One of the best hot spots for happy hour is Kona Grill, offering a great deal on sushi, appetizers, and beverages!
Shopping
The Country Club Plaza also offers Kansas Citians access to designer stores that can't be found anywhere else in town. Retailers such as Kate Spade, Michael Kors, and Kendra Scott all have locations here which makes the Plaza one of the best places to shop in the city. Those looking for some of the more traditional staples can also find stores like Forever 21, H&M, Banana Republic, and J. Crew. No matter what you're shopping for, a stop by The Plaza means that you will likely find it!
Music
Part of the hustle and bustle of The Plaza is the sound of street performers filling the streets. You can often find a bagpiper, drum circle, flutist, or DJ sharing their art with the world. There are also venues throughout The Plaza area that give performers a chance to shine. At O'dowd's you'll find a rotating selection of talented musicians and DJs, and Chaz on the Plaza offers a taste of jazz.
Exercise
The Plaza offers a variety of activities to fulfill your exercise needs. There are workout facilities like Power Life Yoga, Mojo Cycling Studio, and CorePower Yoga that offer classes throughout the day. You also have easy access to two of the most beautiful parks in Kansas City. Located just east of the Plaza is Mill Creek Park, which is home to the Mill Creek Park Exercise Trail. Just south of The Plaza you can find the wonderful Loose Park, which is home to Kansas City's municipal Rose Garden. Whether you decide to take a class at a studio or go for a run on a trail in the park, you are sure to have plenty of ways to get in some exercise on The Plaza!
Living
The Plaza attracts people from all walks of life to live and work. There are beautiful apartments in many different price ranges that can be found throughout the neighborhood! One of these beautiful complexes is Plaza 209, which offers gorgeous apartments with convenient access to The Plaza!
The Country Club Plaza offers a piece of Kansas City history in the modern world. Although there have been many changes throughout the Plaza since it was first opened for business, the area continues to adapt and survive. No matter what, you're sure to have a fulfilling experience when you visit!
Let us help you make Kansas City your home.
There's nothing like settling down in a place all your own, especially one with its own doggy area. With so many dog parks in Kansas City and other canine-friendly activities, an apartment in the area is sure to keep you at the heart of the action. There are a variety of neighborhoods and complexes that could fit anyone's needs, and we have them all ready for you in one, easy-to-find place.
If you're looking for the best housing near Kansas City with dog parks, we've got you covered. LeasingKC is a rental listing site curated by local experts to help you find Kansas City apartments, rental homes, condos, and lofts.
Stay up to date.
Whether you're new in town or a native Kansas Citian, there's something new to discover about KC every day. Join over 34,000 subscribers to LeasingKC Newsletters for more tidbits, city guides, and more.