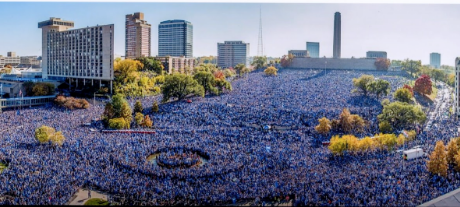 Why Renters Belong in KC
If there is one thing we do not lack it is a sense of pride for our community!
---
Kansas City is a bountiful city with a lot to offer. We showed our love for this city when we flooded downtown in a sea of blue (raise your hand if you made it to the Royals Championship parade . . . or tried to). It may be a biased perception at first glance, but compared to the national average, we are doing exceptionally well in terms of economic growth and development. Within the past few years development and innovation have put KC on the map and made us one of the most sought after cities in the U.S. LeasingKC has dug up some fun facts about the area that give you more reasons to gloat about our exceptional community!
---
Cost of Living Lower Than National Average
Kansas City's overall cost of living is 13.8% lower than the national average and the cost of housing is even lower than that! We settled in at 36.7% below the national average, which is phenomenal considering our huge developments in the apartment industry. This means that our residents have virtually the cream of the crop when it comes to choosing their future home at an affordable price. You can check out the newest apartments and rental homes at LeasingKC.com.
(Photography By Kevin Sink)
---
KC Is A College Grad Oasis
According to Livability.com and the KC Business Journal, Kansas City is ranked 11th out of the 106 best cities for college graduates.
Kansas City and the surrounding areas have a very dynamic spread of big companies helping to support the job force. The presence of Google Fiber has attracted a flood of innovative companies looking to launch their projects.  It has also provided more opportunities for college grads to get their dream jobs.
---
Amenities
It seems there is never a dull moment in KC. We have a little of everything for both kids and adults in all directions.  For example, you can find indoor skydiving at Ifly in Overland Park, the ski slopes at Snow Creek up North, the stadiums out east, and the Legends Outlet Mall to the west. Between all 11 counties, we have a constant flow of festivals, art shows, and music and food from all over the world. And let's not forget the pure ingenuity of our local businesses. The KC community has really done a fantastic job of supporting its own; a fact that dates back to a time period when 1 out 7 women wore clothes made in the KC Garment District. AreaVibes gave Kansas City an A+ for amenities and even provides a list of them here.
---
KC Ranked EXTREMELY Livable!
According to AreaVibes, KC scores a 60 for livability overall, making it an above-average livable city. You can also search their site to find ratings on individual neighborhoods, some of which score as high as 94 for livability. As the days go on we believe we are only improving as a whole, and we are building a city of which we can be proud. So go ahead and gloat – it's for a good reason!