Most of our fondest family memories revolve around the holiday season. This is especially true for anyone who is from Johnson County, KS. That's because during the months of November and December, Johnson County transforms into a Winter Wonderland, with no shortage of activities for families, couples, and anyone feeling the holiday spirit 🎄 
If you're new to the KC area, you may not realize all of the amazing holiday activities in Johnson County, from live performances to outdoor ice skating, gingerbread workshops, and all that's in between. 
Lucky for you, the LeasingKC team has put together (in no particular order) our top 15 favorite holiday activities in Johnson County. Keep reading so you can start planning a magical holiday season for your family! 
The Ice At Park Place
If you want to enjoy a great family day (or romantic date night) of ice skating, check out Leawood's outdoor ice rink at one of the cutest outdoor shopping & dining districts, Park Place! 
The Ice at Park Place is open November 15 through February 17, with special events like Princess Skate, Skating with Santa, Valentine's Day Skate, and more! After you've skated to your heart's content, you can warm up with a meal at Gordon Biersch or The Ainsworth. 
Stay tuned to the Park Place website for event dates/times and all hours of operation! 
Holiday Movies
Whether they're holiday-themed or not, some of the best movies of the year tend to be released in November & December. And with two of the nicest movie theatres in the Kansas City metro (and unpredictable KC winter weather), it isn't hard to see why we've included going to the movies on our list of the best holiday activities in Johnson County. 
Some upcoming movies we are looking forward to in 2019 include the return of Olaf & friends in Frozen II; Knives Out, a murder-mystery whodunnit; and the Broadway classic coming to the big screen, Cats!
Bring family, friends, or a date to two amazing options: the AMC DINE-IN at Prairiefire or AMC Town Center 20. 
Visiting Santa at Town Center Plaza
Just the thought of waiting in a long line to meet Santa with an impatient toddler (surrounded by other impatient toddlers) is enough to trigger feelings of anxiety in many parents. Lucky for you, Town Center Plaza in Leawood makes it a breeze to take your kids to meet and get a photo with Santa.
Around mid-November, a pop-up photo studio opens next to Macy's at Town Center, offering by-appointment photo sessions with Santa – which means no line waiting for you or the kiddos! With 5-minute appointments, the kids can meet Santa, sit on his lap & recite their wish lists, and every adorable moment is captured by Jordan Photography's professional photographers.
Keep an eye on the Jordan Photography website for the schedule and to make your appointment!
Holiday Container Decorating at Family Tree Nursery
Preparations and decorating for the holidays is one of the most fun parts, right?! 🙌 Each year, Family Tree Nursery hosts Holiday Container Workshops at all three locations to help you get in a festive mood and create a beautifully decorated holiday container that you can proudly display on your front porch or balcony. 
This year, they're hosting workshops on November 15th, 16th, and 17th from 10:30am to 4pm. No reservation is required, and you can bring the whole family for a super fun and creative time! The nursery also hosts a Christmas Open House during this time. You can enjoy beautiful lights, ornaments, decorations, and fresh festive greenery and flowers!
Visit the Family Tree website for more information
Picking Out (& Chopping Down!) Your Christmas Tree
There are few greater delights for kids than finding and helping chop down their favorite tree for Santa to put their gifts under. For those who insist on a real, locally grown Christmas tree, one of our favorite holiday activities in Johnson County is visiting a choose-and-cut Christmas tree farm. 
Three of our fave Christmas tree farm options around Johnson County include Wilderson Tree Farm, Midland Holiday Pines, and Hessacres. 
Lighting Ceremonies & Displays
Whether it's a decked-out neighborhood or a downtown lighting ceremony, there is no shortage of holiday lights displays to enjoy in Johnson County all season. 
Almost every city in Johnson County has a lighting ceremony to attend that typically includes carols, hot cocoa & cider, and other fun activities. One of the LeasingKC team's favorites is the Mayor's Holiday Tree Lighting Ceremony in Downtown Overland Park! Be sure to check your city's website for details on their holiday lighting ceremonies.
Another highlight of the holidays that's not to be missed in Olathe is Christmas Card Lane. A neighborhood of over 200 homes goes all-out with over-the-top holiday lights, decorations, and massive Christmas cards. 
Family Gingerbread Workshops at Taste Buds
Taste Buds Kitchen, an event venue in Leawood that hosts cooking events and parties for kids, families, and adults offers holiday gingerbread house workshops for families! Parents (or cool aunts and uncles) & children work in pairs to design and decorate a festive gingerbread house.
These workshops typically start at the end of November and go through December 22, with lots of dates and time options. Sign up on their website! There will be hot chocolate, holiday tunes, and memories that are sure to last a lifetime. 
Candy Cane Hunts
We all know the Easter Bunny hides eggs and candy for us to find each Easter, but did you know Santa has decided to take a page from the bunny's book? Many cities host candy cane hunts, a super fun holiday activity in Johnson County to get you outside and on the search for classic peppermint & sweet holiday treats!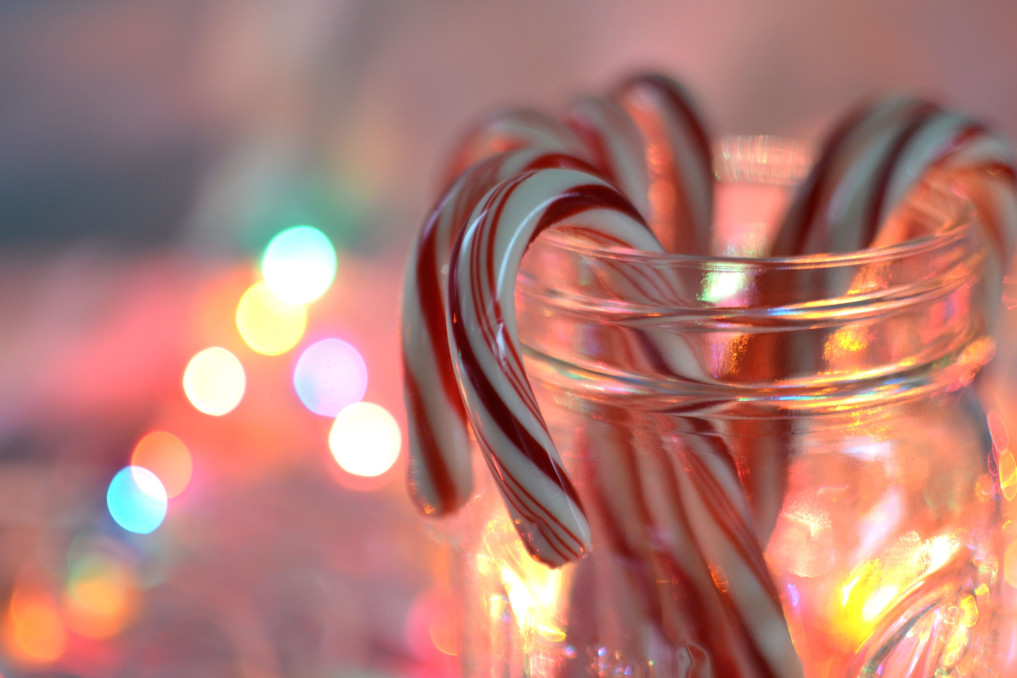 Just a few of the good candy cane hunts in the area include Gardner's Flashlight Candy Cane Hunt on December 19 and Olathe Parks & Rec's Great Candy Cane Hunt at the Olathe Community Center on December 7.
Holiday Performances by the Leawood Stage Company
Leawood's community theatre, the Leawood Stage Company, puts on exciting performances all year round, with some exceptional shows happening for the holiday season. 
November 14 through 17, the Company will perform Nuncrackers, the Nunsense Christmas Musical at the Lodge at Ironwoods Park. (Pro tip: bring a new, unwrapped toy to the show to donate to a child in the community and receive a free popcorn & drink!)
In December, they are set to present an essential holiday performance: The Nutcracker Ballet (details TBA). 
Kansas City Chamber Orchestra's Magnificent Holidays Performance
Each holiday season, the Old Mission Methodist Church in Fairway hosts Magnificent Holidays with the Kansas City Chamber Orchestra. It is a beautiful night of J.S. Bach's Magnificat accompanied by the Musica Vocale Choral Ensemble, Telemann's Concerto for Oboe d'amore, and other Baroque holiday pieces that would get even Ebenezer Scrooge in the Christmas spirit 😏
If you're ready for a night of culture, the performance is December 10 at 7:30pm and there is floor & balcony seating available for $25 to $35 here. 
The Holiday Lights on Farmstead Lane
Just because the Deanna Rose Farmstead is closed for the winter doesn't mean there aren't amazing holiday activities in Johnson County to enjoy there! Starting November 28, you can take a drive down Farmstead Lane to enjoy a beautiful light show synchronized to your favorite holiday music. 
We suggest brewing some hot cocoa, cuddling up under a blanket, and chowing down on some freshly baked cookies while watching the show and listening to the coordinated music on 90.5 Rose FM—all from the comfort of your car in the Farmstead parking lot!
Holiday Traditions on the Prairie
Built in 1877, the Historic Oxford Schoolhouse is one of the oldest schools in Kansas. Located inside Ironwoods Park in Leawood, the schoolhouse hosts programs & events for kids all year round.
To celebrate the holidays, Leawood hosts a "Holiday Traditions on the Prairie" event for kids in the Oxford Schoolhouse. This step back in time features old-time music, crafts, games, & refreshments. If you want to attend this classic holiday activity in Johnson County, mark your calendar for December 7th! It's an open house event, so you can stop by anytime between 9:30 am and 1:30 pm.
The Great Santa Run 5K
This year marks the 11th annual Great Santa Run 5K in Overland Park. It's a great opportunity to run around dressed like Santa Claus or one of his helpers. You also get to feel good about supporting Operation Breakthrough, a local KC charity that serves impoverished children in our community!
Registration is happening now and runners can register through race day, December 8. There's also a Little Elves Fun Run, with medals for participants, just for kiddos 8 years old and younger! 
Giving Back at the Johnson County Christmas Bureau's Holiday Shop
The Johnson County Christmas Bureau is a nonprofit that serves nearly 12,000 low-income families in Johnson County each year. Every December, JCCB hosts a 9-day Holiday Shop for pre-qualified, low-income individuals.
Volunteers help assist shoppers pick out much-needed donated items like groceries, personal care items, holiday gifts for their children, books, winter clothing, cold weather accessories, a gift for themselves, and winter coats. 
Even if you don't have the time to volunteer yourself for the Holiday Shop, you can make donations to JCCB drives of food, toys, coats, personal care items, children's clothing, and more to help fill the Holiday Shop to benefit those in need.
The Best Holiday Shopping in Johnson County
Home to some of the best areas for it, we have to round out our list of the best holiday activities in Johnson County with shopping! 
There's the large indoor mall, Oak Park Mall, with stores like Nordstrom, JCPenney, and a super fun Build-A-Bear Workshop. Additionally, if you prefer an outdoor shopping area, there is Town Center Plaza with everything from Brooks Brothers to Restoration Hardware and delicious dining options. Across 119th St. from Town Center is Hawthorne Plaza, with stores and boutiques perfect for gift buying, like Annabelle's Linens, cuorebella, TIVOL, and more.
The best holiday shopping in Johnson County→
Find your perfect Johnson County apartment & have the best holiday activities at your fingertips!
After making it through this list of the best holiday activities in Johnson County, it isn't hard to see why homes and apartments in Johnson County are in high demand. 
LeasingKC specializes in showcasing the best apartments, condos, and townhomes for rent in the Kansas City metro area. We have two premier listings in Johnson County to help you call this amazing area, "home!" 
Jefferson Pointe Apartments & Townhomes
If an upscale, award-winning apartment community sounds like your style, you may be in luck with the Jefferson Pointe Apartments & Townhomes! 
Located just off 119th St. & 69 Hwy, residents at Jefferson Pointe enjoy easy access to the best schools, dining, shopping, and holiday activities in Johnson County. Additional amenities of the community and apartments include:
A resort-style pool with grilling area and lounge

24-hour fitness center

Gated & fenced community

Full-size washer & dryer in-unit

Wood-burning fireplaces

Direct access garages

Vaulted & high ceilings

And more!
To see photos, available floor plans, and to contact the property managers directly to inquire about life at Jefferson Pointe Apartments & Townhomes, simply view the LeasingKC listing here.
Villa Milano Apartments & Villas
The best of Leawood luxury life can be found at Villa Milano Apartments & Villas. 
Located at 135th Street & Mission Road in South Johnson County, living at Villa Milano puts you in close access to gorgeous parks, the shops & dining at Prairiefire, and gorgeous holiday lights displays come holiday time. 
Amenities & unit features at Villa Milano Apartments & Villas include:
Resort-style pool

Walking trails with beautiful ponds & fountains

Cinema room with theatre seating

Fitness center

Walk-in closets

Stainless steel appliances & granite counters

Private patios & balconies
To view photos of the apartments & community, and to inquire about availability, simply visit the LeasingKC listing and fill out the Contact Property form!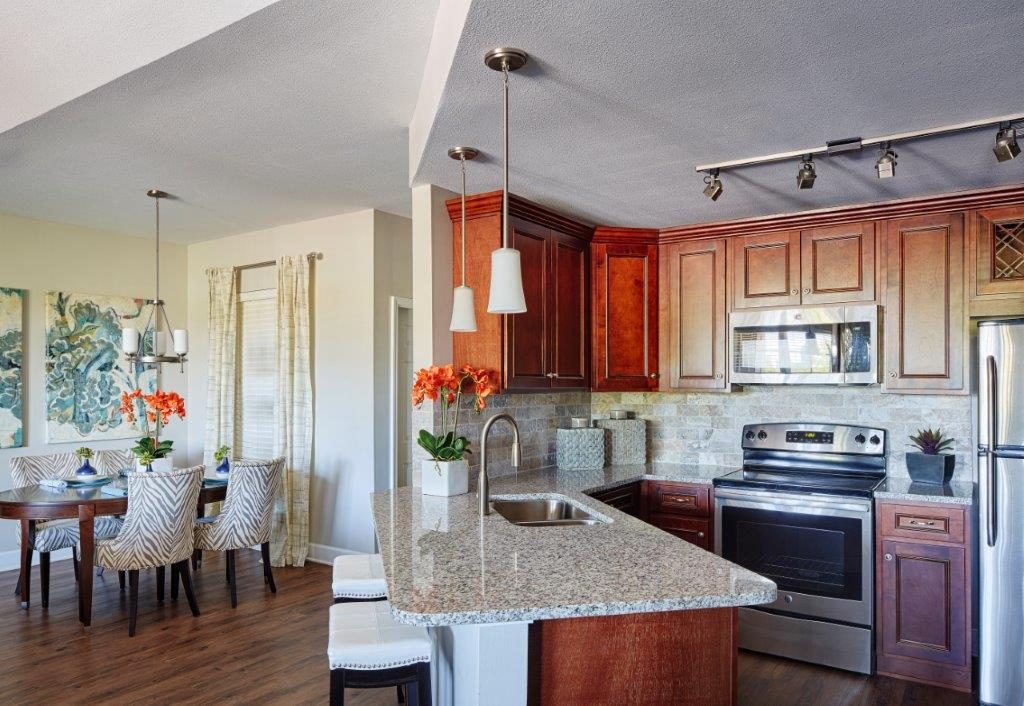 More about these apartments in Johnson County→
---
Learn more.
If you're looking for the best apartments in Johnson County, KS, we've got you covered. LeasingKC is a rental listing site run by local experts. We help you find Kansas City apartments, rental homes, condos, and lofts.
Stay up to date.
Whether you're new in town or a native Kansas Citian, there's something new to discover about KC every day. Join over 34,000 subscribers to LeasingKC Newsletters for more tidbits, city guides, and more.