When thinking for Kansas City, many people don't think about what's north of the Missouri River. But that doesn't mean you should ignore the growing world that's Northland Kansas City. If you're looking for a small-town feel within an urban hub,
Northland Kansas City
may be the right place for you! You get all the perks of living near the city of fountains, eclectic art, and all things BBQ while being able to escape to a suburban, close-knit community.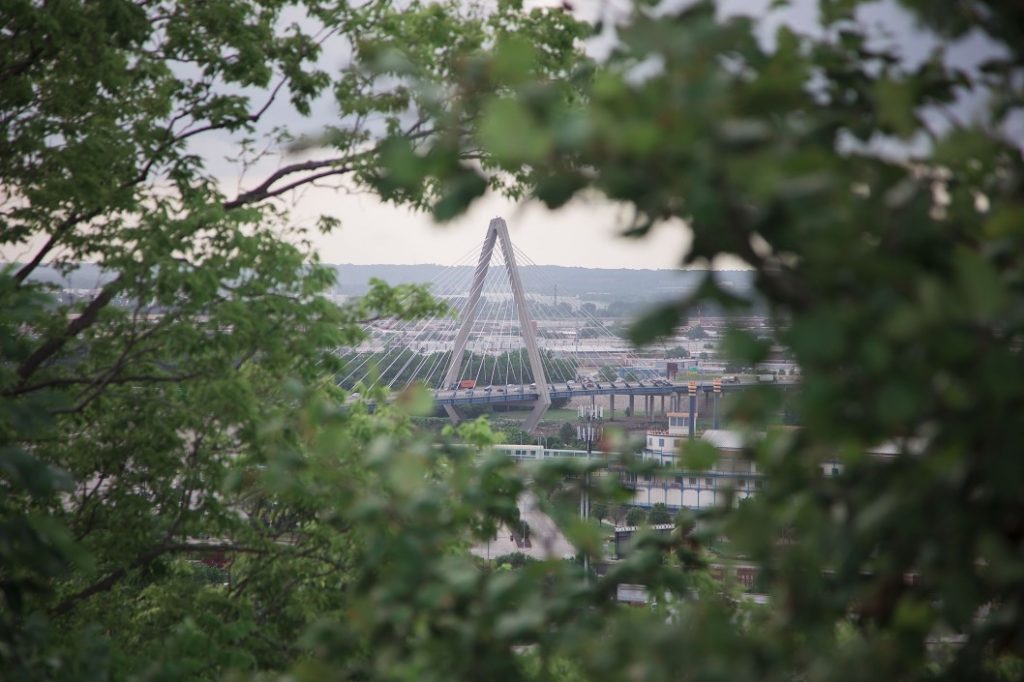 Family-friendly Activities in Northland Kansas City
Historic Downtown Parkville blends mid-1800s and early 1900s architecture with modern, trendy venues. This river-facing delight is a great place to shop, dine, and play. During your visit, we totally recommend taking full advantage of the local art galleries and one-of-a-kind clothing boutiques. No kidding, it may be small, but there really is a little something for everyone. 
Looking for some holiday fun this season? Historic Downtown Parkville shares the joy of Christmas with carolers, vendors, and arts & crafts! There's even a holiday fireworks display to add a bit of boom and flair to your evening. If your kiddos have been extra nice this year, they can take pictures with Santa, his elves, and that special red-nosed reindeer  😉
The weather outside may soon be frightening, but that doesn't mean you have to halt those outdoor activities you love. RoKC allows you to discover new heights through indoor rock climbing. And hey, if you're not an expert, it's completely fine. They offer training classes and are open to people of all skill levels. Since there's no age limit, you can even get your tiny tots involved.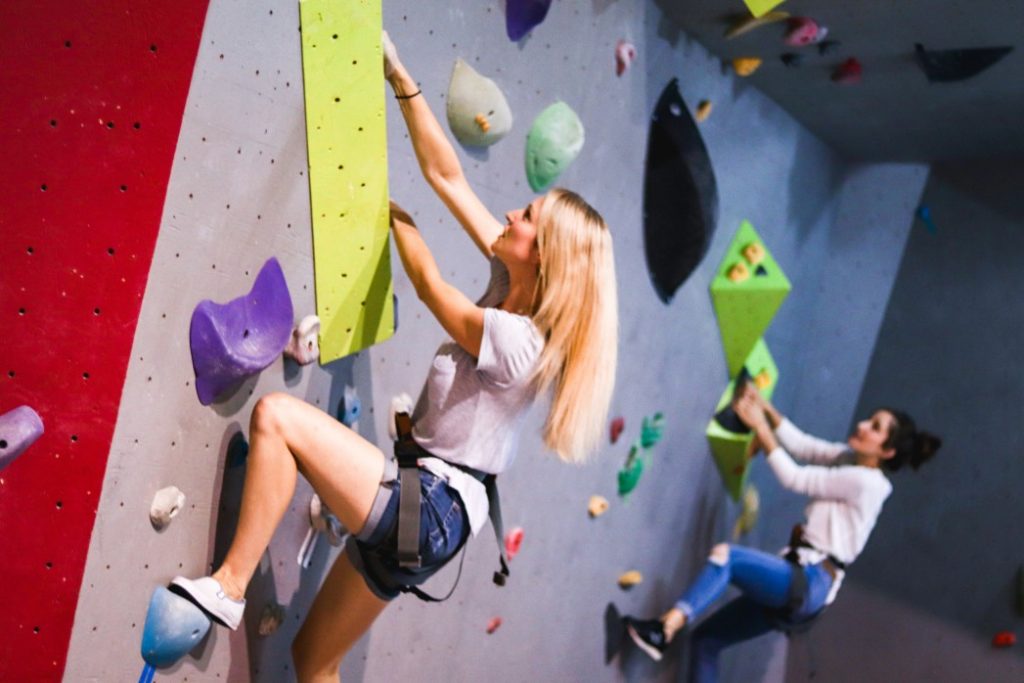 Okay, so maybe heights aren't your thing. RoKC has other options that keep you firmly planted on the ground. Besides rock climbing, you can join a yoga class to release some tension or lift weights in the fitness center. 
Who doesn't like to eat and play? Located off the corner of 18th and Burlington in North Kansas City, at Chicken N Pickle you and the family can grab a bite to eat and play pickleball in one spot. Their chef-driven menu features locally sourced meats and their signature hand-cut fries (yum!). We'll also let you in on a little secret: they have weekend brunch, so that means you avocado toast fans can have your fix, too. 
Not sure what pickleball is? Basically, it's a racquet-based sport where two, three, or four players hit a ball over a net. For those super serious players (or those just looking for extra fun), you can sign up for a winter league to take your talents to the next level. 
Whether you're looking for upscale shopping or casual dining, Zona Rosa is a Northland Kansas City staple for all ages. It's an outdoor mall, so bundle up. But with over 100 merchants and restaurants, you'll surely find a way to embrace the cold for some great holiday shopping. 
As a cheer-filled family outing, Granite City holds an annual Breakfast With Santa Event, and kids get a special gift from Ol' St. Nick with the purchase of a ticket. 
Things to do for Adults in North KC
Northland Kansas City is known for having the first riverfront casinos in Missouri, so now you have an excuse to take on the casino experience at Harrah's North Kansas City. If you're feeling lucky, you can play through the array of over 1,500 slots, daily poker tournaments, and table games. 
When you're ready to take a break, you can check out one of their many restaurants. To get a little of everything, Harrah's has a buffet that includes an array of chef-prepared dishes. Other options include the quick stop, Bite & Bean, Royal Noodle Bar, Winning Streaks, and the members-only Laurel Lounge. 
Exclusive to the 21-and-over crowd, this new North Kansas City location of Tapcade is a perfect place for those who work hard and want to play hard. You can choose between the 62 beers on tap while unleashing your inner gamer with the 25+ arcade games, pinball machines, air hockey tables, and did someone say Dance Dance Revolution?! 
Sometimes you just need a break away from the world to relax and unwind. Located in Briarcliff Village, this luxurious day spa offers a variety of services such as manicures & pedicures, facials, and massages.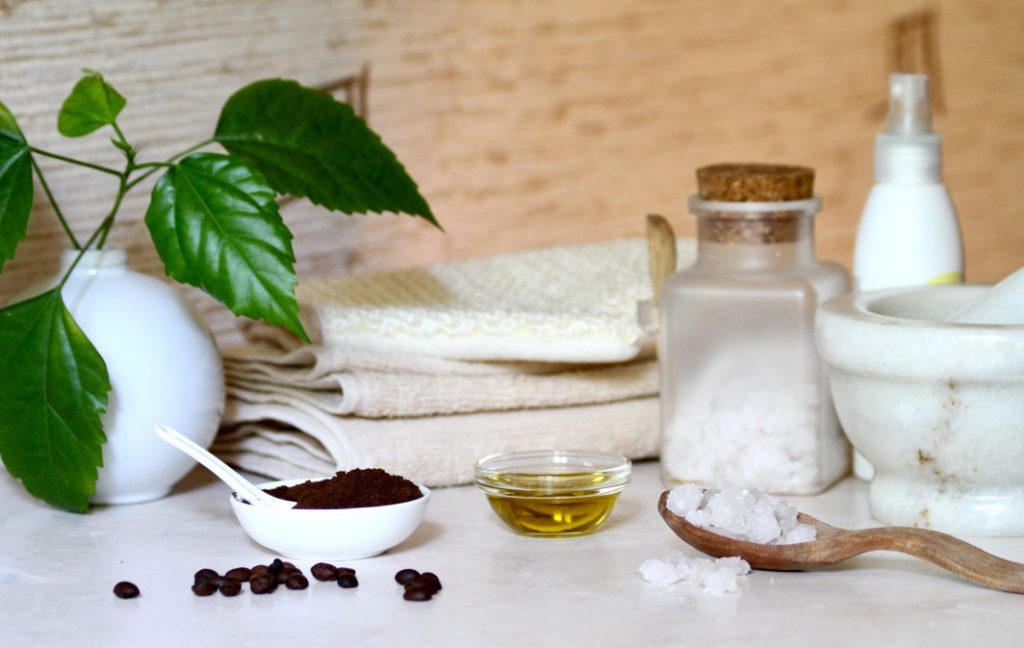 You'll get the full experience with complimentary refreshments, a relaxation lounge, and European baths to soak away built-up stress. These trained professionals and specialists will have you feeling rejuvenated and ready for the workweek. Remember, #selfcare is the best care. 
Keep in mind before you go:
You can look at their services online if you're not sure what you want.

Don't procrastinate; book your appointment early.

Get there around 15-30 minutes early to take advantage of the complimentary amenities

If you want to request a specific therapist, you can; they make it all about you!
Where to Eat in Northland Kansas City
We all have our bad and boujee days when we want to splurge on something a little more fancy. For those moments, Trezo Mare just may be what you're looking for. Known for its handcrafted, Italian cuisine, fresh seafood, and hardwood-fired steaks, the restaurant is perfect for romantic date nights or holiday dinners. During the day, feel free to gather your friends for a weekend brunch or meet up for happy hour.
As a bonus, you'll be able to say you've eaten at a place that was voted Best Fine Dining in the readers' choice edition of Northland Lifestyle Magazine. 
You really can't enjoy the food of Kansas City without some delicious BBQ. This Northland restaurant offers everything you could ask for in a BBQ joint – brisket, turkey, burnt ends, meat by the pound –  to name a few. Oh, and we can't forget ribs, ribs, and more ribs (napkin definitely advised). 
Serving Northland Kansas City since 2003, Smokin' Guns BBQ has been featured in the Food Network's Diners, Drive-ins, and Dives.
Seriously, who said you have to spend tons of money to enjoy unique food? If you're a little more money-conscious, Bun Mee Phan is a great place to try casual Vietnamese on a budget. The restaurant is known for its "Bahn Mi" and "Bahn Tieu" sandwiches where you can get your choice of meat with cucumbers, jalapenos, cilantro, pickle relish, and carrots. For those not interested in a sandwich, there are still tons of other options from tacos to rice bowls, all under $10!
Living in Northland Kansas City
There's a ton of variety
The Northland area includes the cities of Kansas City, North Kansas City, Parkville, Liberty, Gladstone, Riverside, Weatherby Lake, Lake Waukomus, and Smithville. Since you're not just looking at one city or neighborhood, it's easy to find an area in the Northland that fits your personal needs. You can either be super close to Downtown KC, or you can be further north where it's a little more rural and scenic. 
Close to job opportunities
The Northland is a great place for professionals to live. Large companies such as Cerner, DST Systems, and Hallmark offer a variety of jobs that won't make your morning commute a complete hassle. Plus, Northland Kansas City is a great place for companies to expand. For example, Google may even add a new $600M data center that could bring 30 new jobs to the area. The possibilities are endless!
It's full of historic sites
For those history buffs out there, Northland Kansas City offers a multitude of museums and historic sites to give you a glimpse of KC's past. You can visit places like The Arabia Steamboat Museum, which displays 200 tons worth of items that were found in the Missouri River from the boat's sinking in 1856.
A Historic Airport Expansion
Now more than ever, the Northland area is growing to become a great place for locals and visitors alike, thanks to the growing Kansas City International Airport. If you've ever traveled to or from Kansas City, we've all had that thought that KCI is just a little…drab. When it was opened in 1972, KCI was innovative at the time, but now it's definitely time for an upgrade.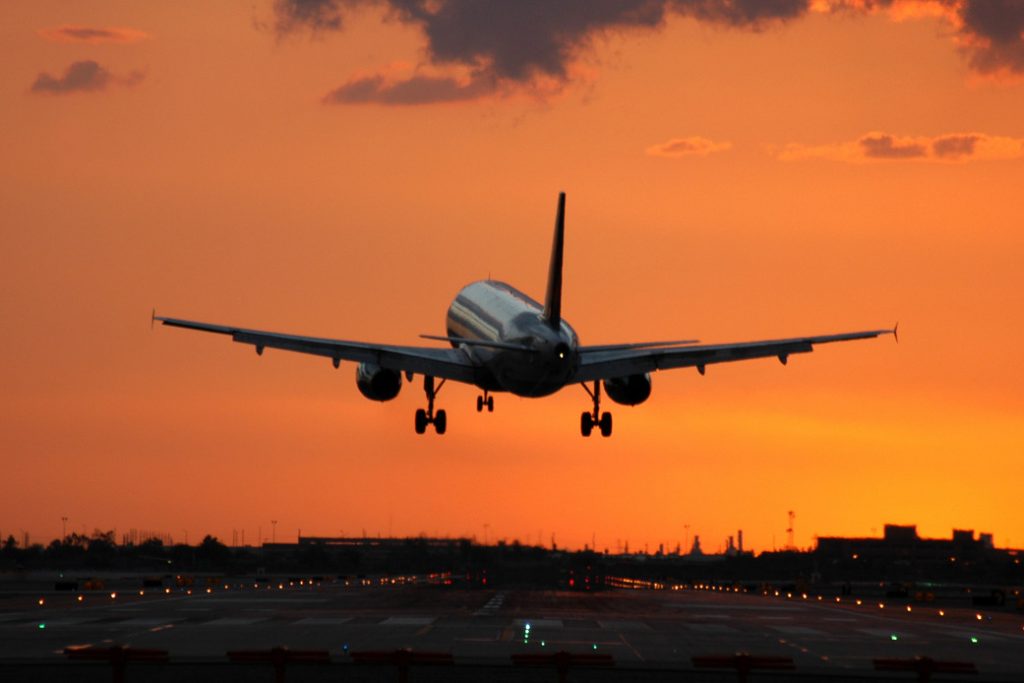 The new plans to build a new one million square foot terminal is the largest single-infrastructure project to ever happen in the city! So the area north of the river just might be the next big hotspot. The terminal will include 39 gates with the capability to grow to 50 and a 6,300-space parking garage. Keep your fingers crossed because construction is expected to be completed in 2023.
More Updates to Expect:
More upscale dining, casual eats, and quick bites & beverages

Local and national shops for souvenirs and traveling necessities

Airfield views

Nursing mothers rooms

Service animal release area

Inclusive play areas

Military USO
Finding an Apartment in Northland Kansas City
People are flocking to the Northland area for jobs and the new additions the area has to offer. In fact, over 30% of residents of Greater KC live in the Northland. 
When looking for a place to stay, keep in mind that though Northland Kansas City expands two counties, Platte and Clay, finding an apartment in the Northland is easier than ever with LeasingKC! We're a rental listing site ran by local experts to help you find that perfect apartment, loft, or condo. 
Stay up to date.
Whether you're new in town or a native Kansas Citian, there's something new to discover about KC every day. Join over 34,000 subscribers to LeasingKC Newsletters for more tidbits, city guides, and more.