Branding Guide for Property Management Companies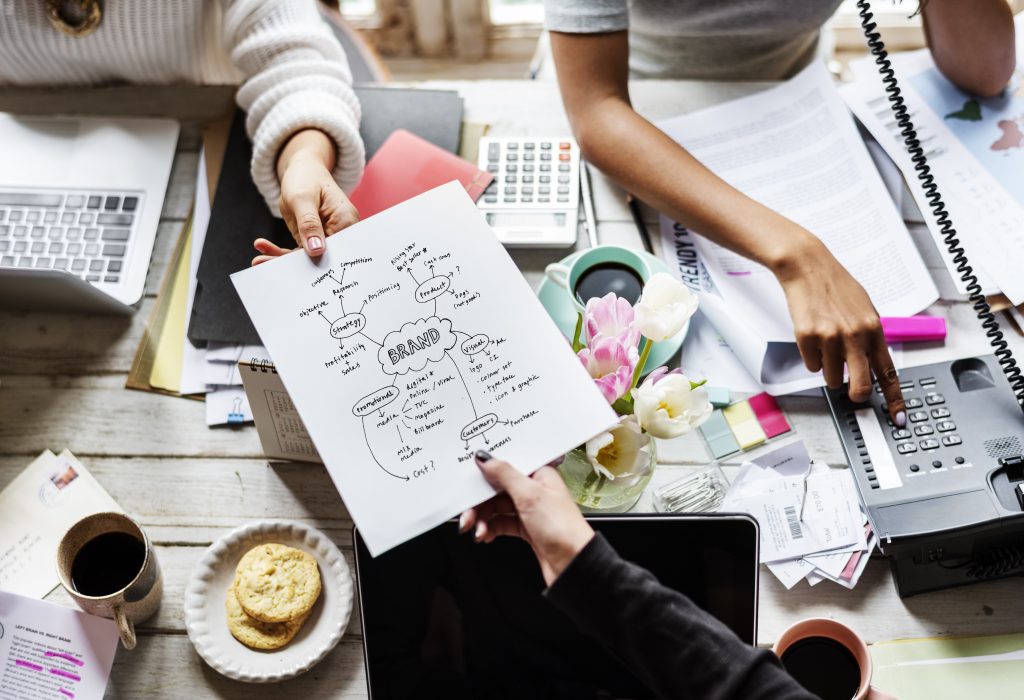 You probably hear about branding all the time, but we can all be a little honest and say sometimes figuring out the right branding can be somewhat tricky. While you may be focused on gaining new leads, pulling in renters, and retaining the renters you have (whew!), you don't want to throw your brand to the wayside. 
If there's one thing you should take with you it's this: branding is the heart of your business and your marketing efforts. 
That is exactly why our apartment marketing experts at LeasingKC are always here to help property managers in the Kansas City area. Plus, we're an online listing website, so we know what renters are looking for in an apartment brand. 
To learn more, keep reading for our guide on branding for property management companies.
What is branding?
Branding is what makes your company stand out from the rest. Basically, it's everything that defines who you are, what you look like, what you stand for, and more. Prospective renters, whether they realize it or not, are often driven to a facility based on its brand. Why? Because branding is how people will perceive your company, and helps you become recognizable. We're not going to lie—effective branding will take some time and a lot of hard work (but hard work pays off 💪).
Great branding always puts the target audience at the forefront. You never want to brand based on what you like or what you find appealing. Sorry to be honest here, but this isn't about you. It's about the people you want as renters. Instead, you should do your research on what your audience likes and dislikes. Figure out what kind of brands pull them in, and really cater your company to them. 
Once you have a clear, strong brand, you'll be able to spread that to different aspects of your company, such as internal communications, external marketing, employee recruitment, events—truly the sky's the limit. 
Now, let's go ahead and talk about some things you'll want to consider in terms of branding for property management companies. 
How will your brand look?
The look of your brand includes design aspects such as typography, colors, and logos. Any good brand knows that in order to become recognizable, people have to begin associating a distinct look to your company. That's no different for property management companies. The idea is that when people see something they'll automatically go "oh, that's X apartments."
Now we can't tell you which design choices you should choose—let your audience do that. Are they attracted more to dark colors or bright colors? Are they a young, fun crowd and like cool fonts or are they more professional and would rather have something straightforward or contemporary? 
At the end of the day, you want your brand to look unique, but not to the point where it's outlandish. You'd be surprised at some of the crazy things we've seen. 
How will your brand sound?
Your company's voice is just as important as how it looks. First, there are technical aspects of voice such as stylistic guides (i.e. AP Style vs. Chicago). Your company can have its own guide for any specifics those books don't cover. For instance, many property managers opt to say "renter" instead of "tenant." Whichever you choose, having a brand voice guide in place for your staff to follow will help bring uniformity to all of your content. In turn, that helps you look more professional. 
Second, voice is about how you converse with your audience. Some property management companies will choose to sound more professional, while others would rather sound like the friend next door. 
That said, don't just throw out a voice and hope it works. Really understand what resonates with your audience. If you're targeting retired seniors, you're not going to sound the same as a company that targets young professionals. 
Let's do a quick example. Say you want to introduce your brand by highlighting your amenities, tours, and friendly staff. Here are a few ways you could say the same thing with different voices. 
Voice 1: Our apartments come with a variety of amenities to suit your needs. We offer on-site tours with a friendly staff that is dedicated to giving you the best experience and service available. 
Voice 2: Looking for the best amenities in town? Our apartments have everything you need and more! Drop in and take a tour with someone from our super friendly staff. No matter who you are, we're always here to find the place you've been searching for.  
Voice 3: Submerge yourself in the most luxurious amenities around. For a first-hand glimpse at our apartments, join us for an on-site tour. From the moment you step into our office, our professional staff will help guide you toward finally discovering the apartment of your dreams. 
See what we mean about how writing content in different voices can evoke different emotions? Your writing is just as important, if not more, as your visual branding for your property management company.
How will your brand connect?
It's one thing to have a brand; it's another thing to have a brand that actually connects with your audience. The biggest way to do that? Tell your story. 
With so many apartments, condos, and townhomes on the market, people are looking beyond amenities and features. Use your brand not just to sell your complex, but to also tell people why you do what you do. The why behind your company brings the human side out of your brand and makes you more relatable. 
This is especially important for property management companies with a lot of competition in the area. If you all have the same amenities, bedroom sizes, and location perks, it's your story that could help you stand above the rest. 
Really think about why what you do is important to you. What keeps you pushing? What motivates you? What are your company's values? All of those answers can help you outline a genuine story. Trust us, people can see straight through the phony when shopping property management companies, so we don't recommend making anything up in the process. 
Property Management Companies: Get help with your branding from LeasingKC 
If you're in the Kansas City area, let LeasingKC be your bridge between you and your future residents. LeasingKC is a rental listing site run by local experts to help people find Kansas City apartments, rental homes, condos, and lofts.
Along with helping property management companies in Kansas City create strong branding guides, we also provide a variety of cost-effective marketing plans that allow property managers and landlords to maximize their investments. 
Stay up to date.
Whether you're new in town or a native Kansas Citian, there's something new to discover about KC every day. Join over 34,000 subscribers to LeasingKC Newsletters for more tidbits, city guides, apartment marketing tips, and more.