Coolest Apartment Bathroom in Kansas City
The two biggest selling points of an apartment are the kitchen and the bathroom. LeasingKC has already brought you the winners of the Coolest Apartment Kitchens in Kansas City… and now it's time to reveal the winners of the Coolest Apartment Bathrooms in KC!
This is no easy feat. Apartments are notorious for being small (sometimes even cramped!) and not entirely functional. However, as locals to the Kansas City area, we're happy to say that many apartments in town provide generous, functional spaces, even within their bathrooms!
Here are a few of our favorites.
---
Honorable Mentions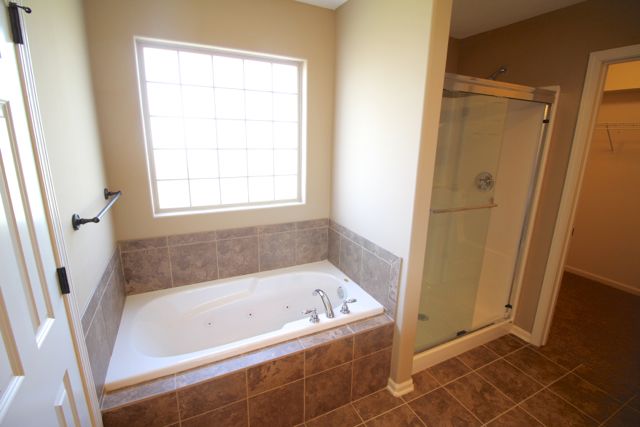 How often have you seen both a tub AND a stand up shower in one bathroom? We think that speaks for itself at Falcon Falls, located in North KC. While this kind of detail may seem small during the apartment-shopping process, this may make all the difference once you've moved in and have the luxury of either option!
---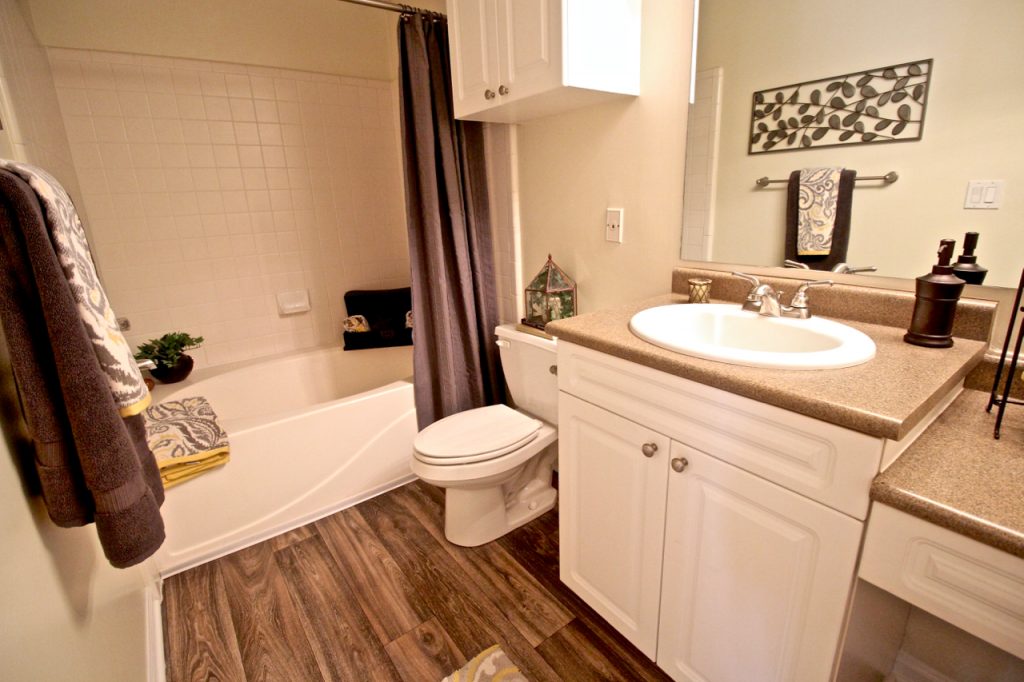 Don't discount storage as a major buying factor in your apartment search—especially in a bathroom! The Crossing at Barry Road does a great job of balancing function and storage in its bathrooms. Notice the cabinet above the toilet? The extended counter? Plus, this bathroom features beautiful floors that perfectly tie the room together with a homey feel, while remaining easy to maintain (no floor tile grout!).
---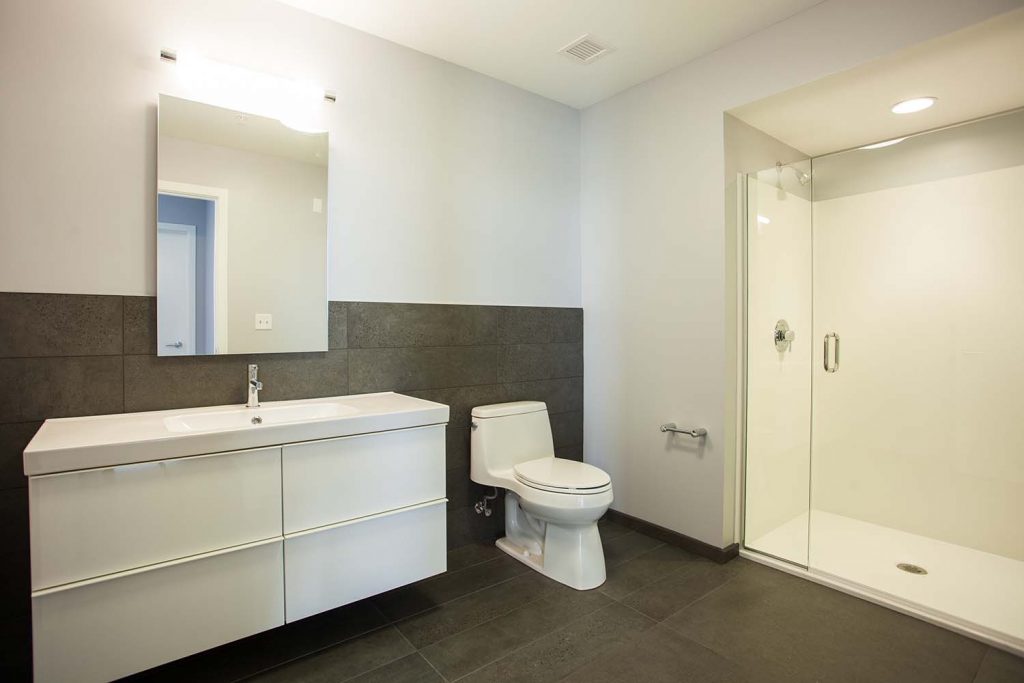 Talk about space! Not only is this bathroom spacious enough for your morning routine, but if you have a significant other or roommate, you should have no problem with sharing! (Although that's really a personal problem.)
One of our favorite things about the International's bathroom layout is its minimalist style, which lends perfectly for personalization. Hanging up prints and adding plants and other personal touches will be easy, while still maintaining the simplicity through the fixtures and clear glass shower door. Not to mention that HUGE shower!
---
Winner – The Coolest Apartment Bathroom in Kansas City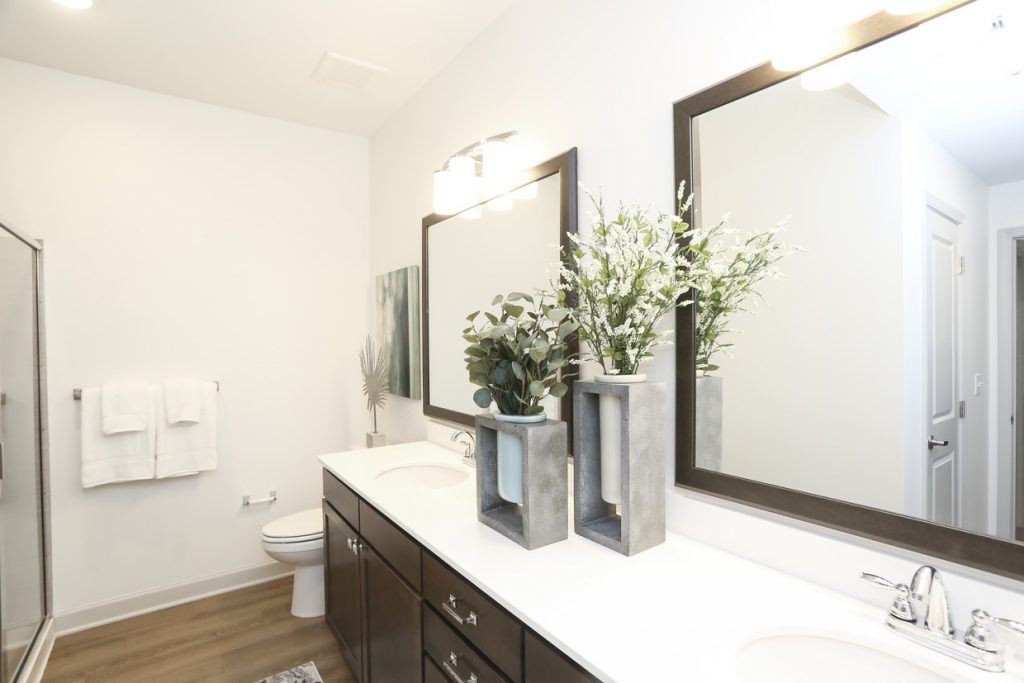 Regardless of whether a Sonoma Hill resident chooses an apartment with a traditional bathtub or a walk-in shower, these bathrooms are both luxurious & relaxing while maintaining a bright, clean, and modern look. It features easy to clean floors (check), modern fixtures (check), and (wait for it…) a DOUBLE vanity! No more fighting with your spouse for a sink with a mouth full of toothpaste. That's a win in our book!
LeasingKC has found the Sonoma Hill the winner of the Coolest Apartment Bathroom in Kansas City recognition for it's perfect use of lighting, storage, space, and style. Its use of bold, contrasting finishes in a simple way ties into the personality of the style of the rest of the apartment—without going overboard.
---
Learn more.
If you're looking for the coolest apartments in Kansas City, we've got you covered. LeasingKC is a rental listing site run by local experts to help you find Kansas City apartments, rental homes, condos, and lofts.
---
Stay up to date.
Whether you're new in town or a native Kansas Citian, there's something new to discover about KC every day. Join the 34,000+ subscribers of LeasingKC Newsletters for more tidbits, city guides, and more.