Coolest Kitchen in Kansas City
At LeasingKC, we spend a lot of time looking at apartments. Like, a lot of apartments. So it's not a surprise that we have a few favorites up our sleeves. We've compiled a list of the coolest kitchens in Kansas City. And who knows? Maybe your dream apartment is right here on this list!
Honorable Mentions
This kitchen deserved an honorable mention for its attention to simple detail. Its lighting fixtures, cabinetry, and central location in the apartment help bring the living space together and allow for easy entertaining in a beautiful, clean looking space.
Notice to the right of the kitchen (left of the image) the generous pantry! Not many apartments in Kansas City can claim this kind of storage capacity in a kitchen. But because the Crossroads Westside Apartments were only recently built, they were able to include all of these details in their apartments without worrying about the kind of constraints that come with renovating an older building.
---
If it wasn't obvious from its listing, the Roaster's Block apartments boast one of the biggest apartment kitchens we've ever seen! Imagine the kind of hosting and preparation you can do with a kitchen like that! (Excuse us while we teach ourselves how to cook, bake, and prepare the kind of huge meals to do this ginormous kitchen justice! #SoMuchPrepSpace #SoLittleTime)
Besides the sheer size of this kitchen, including prep space, storage, and full, updated, stainless steel appliances, this kitchen also features a perfect transition into the rest of the living space. And with the additional seating at the built-in bar alongside the window-wall, your friends, family, and other guests will definitely thank you for inviting them over for a bite.
---
Winner – The Coolest Kitchen in Kansas City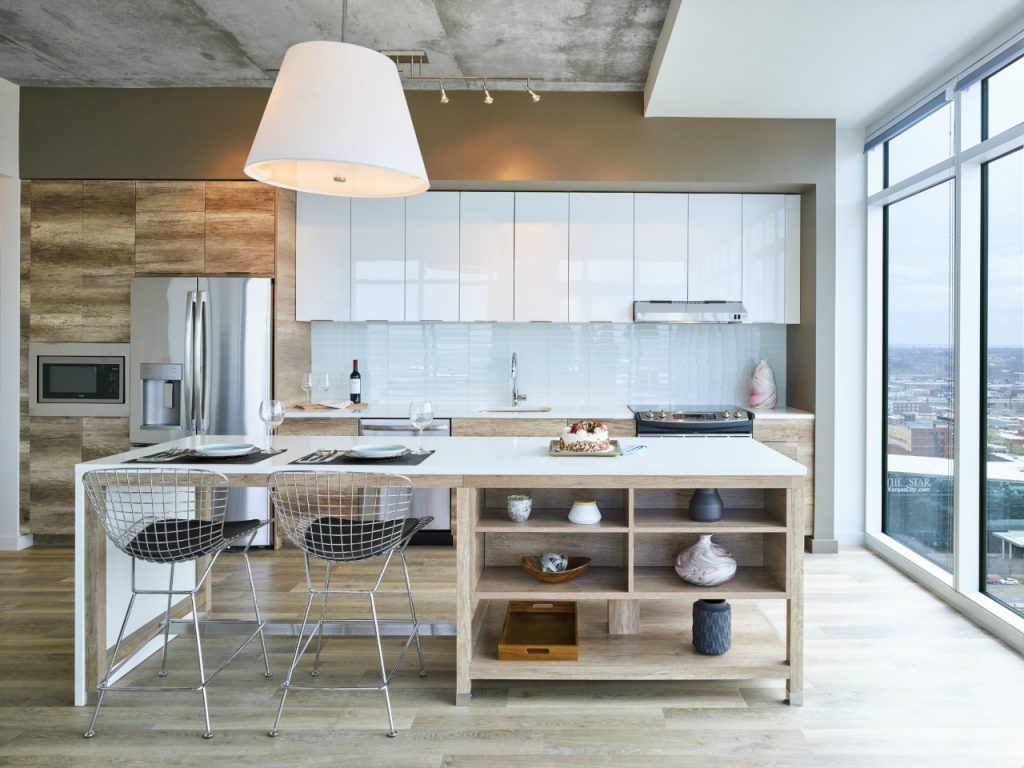 The Two Light Luxury Apartments, located in downtown KC, were the clear choice for our "Coolest Kitchen in Kansas City" recognition. It's European style is the most modern, clean design we've seen in a Kansas City Kitchen, featuring minimalist details, natural wood tones, and sleek white countertops and cabinets.
Natural light from the floor-to-ceiling windows was one of the biggest contributing factors to our choice in the Two Light space; this is complemented perfectly with warm lighting fixtures for added ambiance.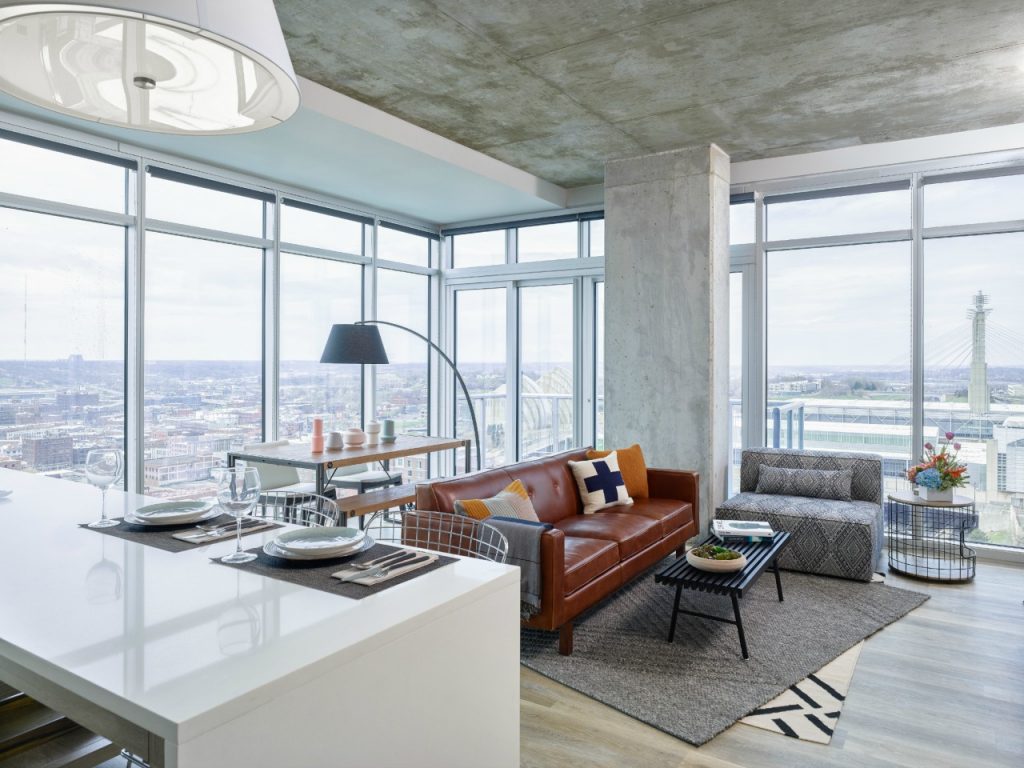 Imagine cooking up a meal for your friends or family at the gigantic island! With an unimpeded sightline of the rest of the living space, as well as the view of the city just outside the expansive windows, the Two Light Luxury Apartments, you'll make memories here to last a lifetime.
---
Learn more.
If you're looking for the coolest apartments in Kansas City, we've got you covered. LeasingKC is a rental listing site run by local experts to help you find Kansas City apartments, rental homes, condos, and lofts.
Coming up, you'll soon be able to check out our newest article to find out which of these amazing apartments we picked as the winner of our Coolest Apartment Bathrooms in Kansas City recognition!
---
Stay up to date.
Whether you're new in town or a native Kansas Citian, there's something new to discover about KC every day. Join the 34,000+ subscribers of LeasingKC Newsletters for more tidbits, city guides, and more.