The 27 Best Places to Watch Football in Kansas City (2020)
With how close the Kansas City Chiefs got to the Superbowl in 2019, it's no wonder people wanted to find the best places to watch football in Kansas City.
LeasingKC is a local business that loves the KC community and everything it has to offer to both residents and visitors.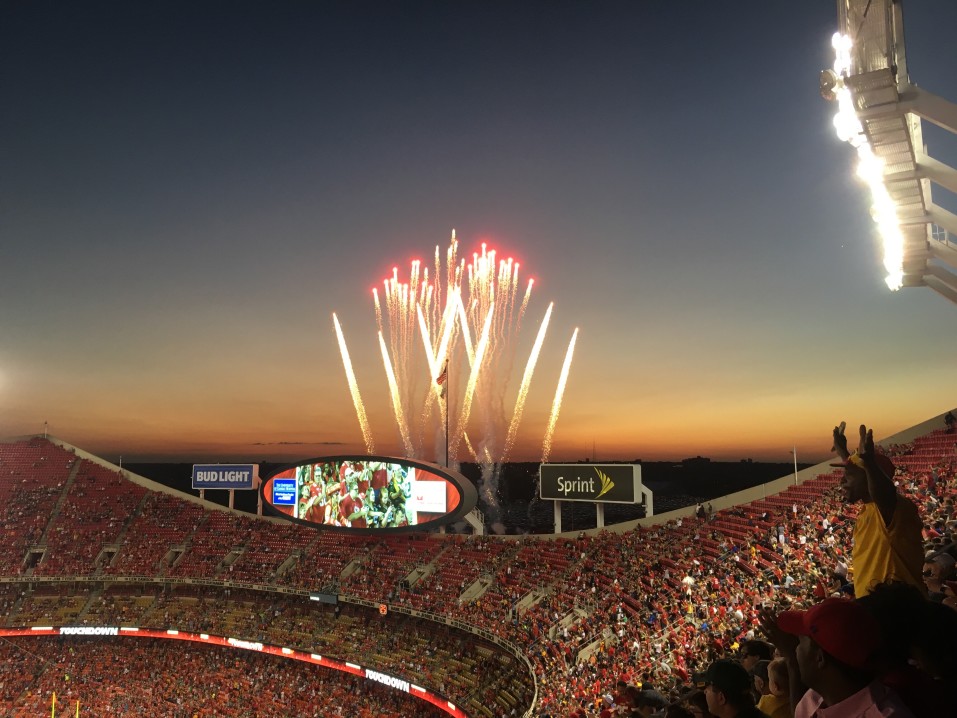 Without further adieu, we present our comprehensive list of the 27 Best Places to Watch Football in Kansas City.
—Best Places to Watch Football in Kansas City's Country Club Plaza
Kansas City's romantic, charming Country Club Plaza is one of the best places to watch a sports game.
Packed with tons of foot traffic and surrounded by beautiful scenery and perfectly manicured sidewalks & fountains, it's no wonder why!
1. Granfalloon
Featured in Feast Magazine as one of the best KC sports bars, Granfalloon is located on the north side of Brush Creek (near Ward & Broadway). They have gone to extra lengths to ensure that you can see a screen from any seat in the entire restaurant, making it our number one spot (numerically and in our hearts) to watch Chiefs games in Kansas City.
2. The Peanut
The Peanut is a beloved KC institution. It's one of the oldest bar and grills in the city, dating back to 1933 😱 Famous for its jumbo wings, The Peanut offers excellent service across its five area locations. 
3. The Bar West Plaza
Amazing drink specials. Yummy apps. It's the perfect storm for an enjoyable game with friends or family! We especially 💖their buffalo chicken dip! (Hint: their brunch is super underrated and is a hit with every type of eater, picky or otherwise.)
4. Twin City Tavern
A warm bowl of homemade chili is one of our favorite ways of celebrating football season in Kansas City. Score one of the best ones in town at Twin City Tavern on 43rd and State Line! It was also named the "best place to hide in case of zombie apocalypse," by Pitch Magazine, so they've got that going for them, too.
5. Nick & Jakes
Nick & Jakes off Main in the South Plaza has some of the best food you'll find in a "sports" atmosphere. It's one of the only places you can satisfy your cravings for Italian, Irish, Thai, Mexican, American, and Vegan food all in the same place.
6. Gates
Another beloved Kansas City gem. While you may have to politely close the door on your calorie count for the day, Gates Barbecue is sure to keep you nice and full while you enjoy the game! 
7. Fred P. Ott's Bar & Hamburger Business
You'll love the atmosphere at Fred P. Ott's place in the plaza. The menu alone is both quirky and drool-worthy!
8. Minsky's
What's football without pizza and wings?! While Minsky's Pizza has several locations across the metro, our fave might just be the one in the Plaza. In fact, Minsky's on South Plaza is now an official football watch site in Kansas City for Nebraska Football!
---
Read our Brief Neighborhood Guide to the Kansas City Plaza for more fun things to do and see!
---
—Best Places to Watch Football in Kansas City's Westport Neighborhood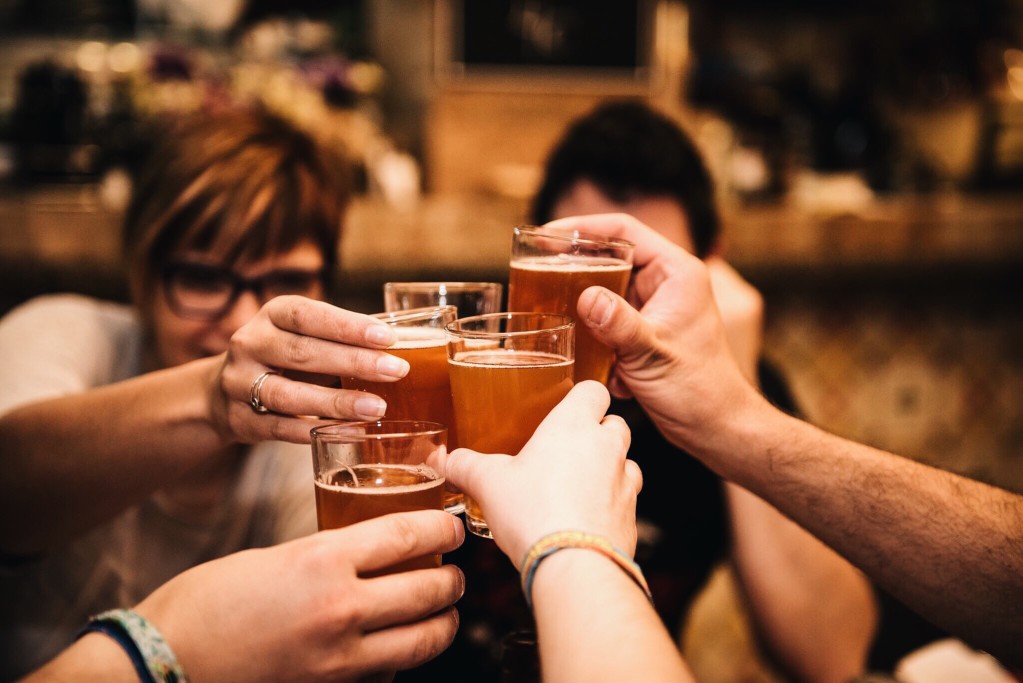 Westport is one of the most fun and lively places to be during any sports game, but especially football. 
If you love waves of crowds in red, white, and gold, any of these will be the best places to watch football in Kansas City for your group.
9. Westport Ale House
All the screens 🙌Westport Ale House is conveniently located in Westport—and especially during football season, it's hard to miss! 
10. HopCat
All the beer 🙌HopCat is the self-proclaimed Craft Beer HQ of Kansas City, with over 100 taps flowing every day.
"Our 100 taps always include our Local 30 selection of craft beers and ciders made in Missouri and Kansas, representing the best local examples in a variety of styles. Our 70 rotating drafts include many other local contributions that are more seasonal, limited or even exclusive to HopCat."
Don't be intimidated. The HopCat staff is expertly trained on finding you the perfect beer to satisfy your cravings and pair perfectly with your meal or apps.
11. Kelly's Westport Inn
The crowds exploding cheers make it nearly impossible to miss a play at Kelly's Westport Inn. Even though Kelly's is the oldest bar in Westport, it attracts 21+ crowds of all walks of life. If you want a taste of Kansas City and KC football culture, you'll find it here.
12. Johnny Kaw's
Watch a game during the day, party hard at night. Johnny Kaw's features a variety of shot boards and water-pong tables, as well as an upstairs patio and bar for even more fun.
13. Harpo's
Harpo's makes a tradition out of Sunday football in Kansas City. Oh, and did we mention they make a burger using Boulevard Pale Ale-marinated mushrooms? 🤤You can't get much more Kansas City than that!
14. Westport Flea Market
Westport Flea Market has been voted the Best Burger in Kansas City by the Food Network, so you know they've got something special. Come here for an affordable meal and a cold beer during the next away game and we guarantee you won't regret it.
15. Tower Tavern
Located just north of Westport in a quaint neighborhood affectionately referred to as "Martini Corner," or "Tower East," Tower Tavern has spacious private rooms available for when you want to get the gang back together at one of the best places to watch football in Kansas City.
16. Ollie's Local
Just across the street from Tower Tavern is Ollie's Local, which has a build-your-own-bloody-mary bar when you're in the mood to spice up your football watching experience (literally).
17. BrickHouse
Ollie's neighbor, BrickHouse, has one of the best happy hours in all of Kansas City, which runs Fridays & Saturdays from 3pm to 10pm (yep, you read that right!). 
18. Gambal's Social Club
100 beers. Bar Games. Yard Games. Tacos. Gambal's Social Club has created a casual hangout that's a local favorite, and a great place to come for the game and stay for the atmosphere!
---
Read our Ultimate Guide to Westport KC
---
—Best Places to Watch Football in Kansas City's Waldo, Brookside, and South KC Neighborhoods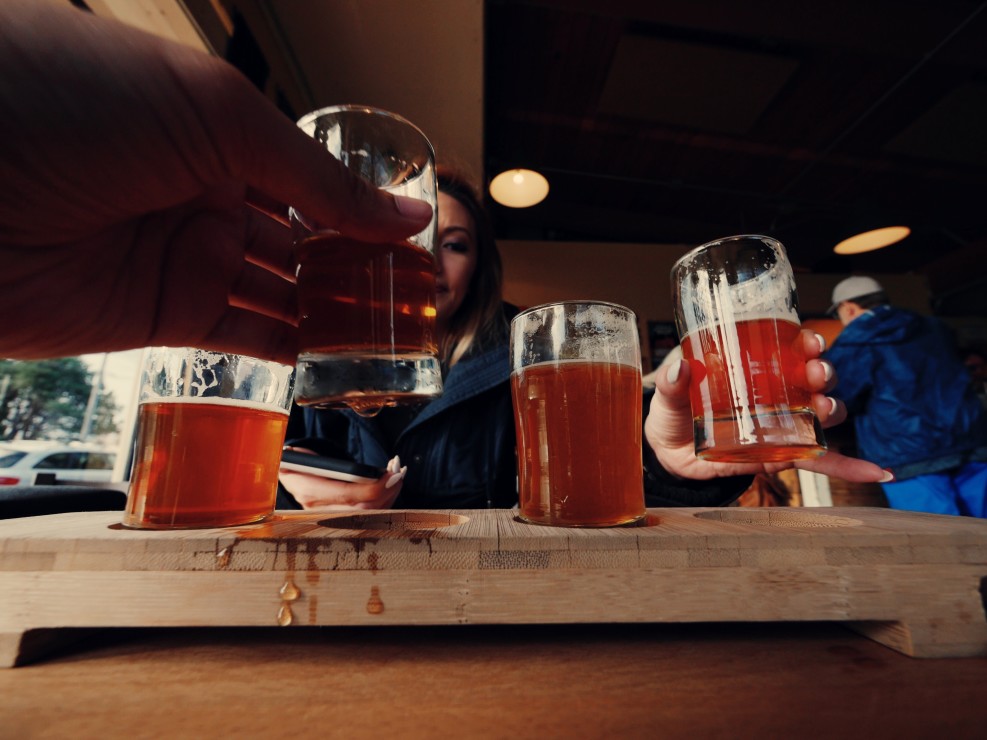 If you don't want to trek into the city to catch a game, stay nice and close to home in the suburbs with these amazing hangout spots in South KC!
19. Flying Horse Taproom
Flying Horse is Brookside East's first neighborhood taproom, which was born out of the same minds that brought us the amazing Brookside Wine & Spirits. Take your charcuterie board straight to the patio with a cold Sour beer, and you'll see why they've made our list of the best places to watch football in Kansas City.
20. Charlie Hoopers
Charlie Hoopers is a staple to the Brookside neighborhood. While it's temporarily closed for repairs after a recent fire, they are assuring all of us (on the edge of our seats over here!) that they will be back open in time for football season. Keep your fingers crossed and follow them on social media for updates!
21. Brooksider Sports Bar
Wings, burgers, and lots of TVs. That's all you really need to be considered one of the best places to watch football in Kansas City, at least in our book! That's where The Brooksider comes in. This sports bar is super underrated, and definitely worth a visit.
22. The Well
The Well is the place to be in Waldo. They offer everything from Sunday brunch and weeknight trivia to local DJ features. Plus, their rooftop bar is a fan favorite.
23. Lew's Bar & Grill
Go ahead and give in—we know you want the 84 oz beer served in a boot just as much as we do when watching Kansas City football! Thanks Lew's, for letting us be our true selves ✌️
24. Coach's Bar & Grill
We snuck this Overland Park bar & grill into the list because LOOK AT THIS BLOODY MARY #howcouldyounot 😭
---
Everything You Need to Know About South KC
---
—Best Places to Watch Football in Kansas City: Honorable Mentions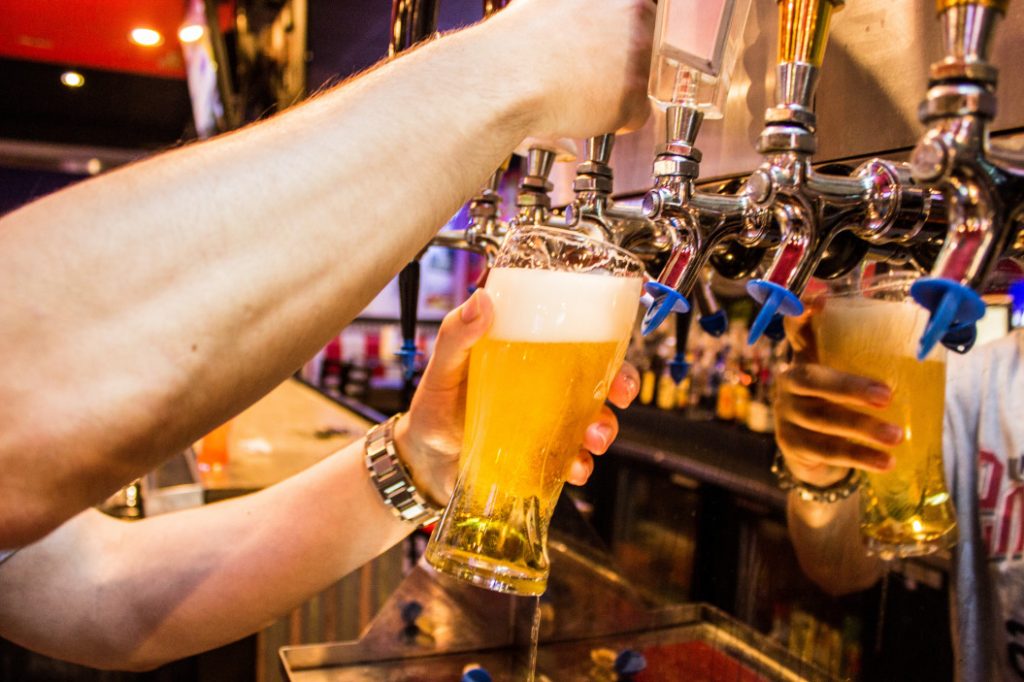 While these destinations are a bit out of the way for most Kansas Citians, they were definitely noteworthy enough to make our list!
25. Chappell's Restaurant & Sports Museum
Chappell's is never lacking in a sports atmosphere… It literally has a sports museum attached to it! Add it to your list to check out the next time you find yourself in North KC. Not to mention, it was voted one of the top 10 sports bars in America by both Sports Illustrated and USA Today! How's that for "legit"?
26. Al's Bar & Grill
Parkville is a cute 40-minute drive from KC, and it's worth every second. Al's has some of the best wings in the entire state, much less Kansas City. Make the drive when you can, then make sure you have a place to stay or a ride home, because they definitely keep the drinks coming!
27. Chief's Stadium
Ahh, last but not least. How can you have a list of the best places to watch football in Kansas City and not include Arrowhead Stadium?! While tickets and parking are pricey, there's absolutely nothing like the stadium experience. Its crowds have literally broken the noise record at 142.2 db, making it the loudest (and subjectively most exciting) stadium in the world 😱
Be sure to come early, as tailgating culture at Arrowhead is an absolute must-do when in Kansas City, especially for football fans. The lines to get in start as early as 6am! 
---
Learn more.
If you're looking for the coolest apartments in the Kansas City Plaza, we've got you covered. LeasingKC is a rental listing site run by local experts to help you find Kansas City apartments, rental homes, condos, and lofts.
---
Stay up to date.
Whether you're new in town or a native Kansas Citian, there's something new to discover about KC every day. Join over 34,000 subscribers to LeasingKC Newsletters for more tidbits, city guides, and more.